Clinicians' Perceptions of the Implementation of the Structured Assessment of Protective Factors for Violence Risk (SAPROF) on an Inpatient Forensic Unit
Tom Domjancic

Center of Addiction and Mental Health, Toronto, Canada

Treena Wilkie

Center of Addiction and Mental Health, Toronto, Canada

Shaheen Darani

Center of Addiction and Mental Health, Toronto, Canada

Brittney Williams

Center of Addiction and Mental Health, Toronto, Canada

Bandhana Maheru

Center of Addiction and Mental Health, Toronto, Canada

Zahra Jamal

Center of Addiction and Mental Health, Toronto, Canada
Abstract
The Structured Assessment of PROtective Factors for Violence Risk (SAPROF) is an assessment tool that examines protective factors when assessing for violence risk. There is limited research on clinicians' perceptions of the use and implementation of risk assessment tools, and this study aimed to examine the experiences of clinicians using the SAPROF in a low secure forensic rehabilitation inpatient unit in Canada. An exploratory research design was used, and five clinicians participated in semi-structured interviews. Data was analyzed using a thematic approach and three central themes were identified: understanding of the patient from a strengths-based point of view, providing clinicians with a focus on how to help the patient, and bringing in opportunities to collaborate as a team. The findings highlight the additional value of the SAPROF as tool in helping forensic teams to adopt strengths based approaches to risk assessment, enhancing treatment planning and inter-professional collaboration.
Keywords: strengths, risk assessment, SAPROF, consensus scoring, recovery
References
1. Mental Health Commission of Canada. Guidelines for recovery-oriented practice – hope. dignity. inclusion. 2015. (accessed on October 4, 2019)
2. Australian Health Minister's Advisory Council. A national framework for recovery-oriented mental health services: Guide for practition-ers and providers. 2013. (accessed on Octo-ber 4, 2019)
3. Ward T. Positioning mental health nursing practice within a positive health paradigm.
Int J Ment Health Nurs 2013;22(2):116-24
4. Simpson AIF, Penney SR. Recovery and forensic care: recent advances and future di-rections. Crim Behav Ment Health 2018;28(5):383-9
5. Dorkins E, Adshead, G. Working with offend-ers: challenges to the recovery agenda. Adv Psychiatr Treat 2011;17(3):178-87
6. Clarke C, Lumbard, D, Sambrook S, Kerr, K. What does recovery mean to a forensic men-tal health patient? a systematic review and narrative synthesis of the qualitative litera-ture, J Forensic Psychol Res Pract 2016;27(1):38-54
7. Gudjonsson GH, Savona CSV, Green, T, Terry, R. The recovery approach to the care of mentally disordered patients. does it pre-dict treatment engagement and positive so-cial behaviour beyond quality of life? Pers In-divid Dif 2011;51(8):899-903
8. Ward T. Good lives and the rehabilitation of offenders: promises and problems. Aggress Violent Behav 2002;7(5):513-28
9. Barnao M, Robertson P, Ward, T. Good Lives Model applied to a forensic popula-tion. Psychiatr Psychol Law 2010;17(2):202-17
10. Rennie CE, Dolan, MC. The significance of protective factors in the assessment of risk. Crim Behav Ment Health 2010;20(1):8-22
11. de Ruiter C, Nicholls, TL. Protective factors in forensic mental health: a new frontier. Int J Forensic Ment Health 2011;10(3):160-70
12. Webster CD, Martin ML, Brink J, Nicholls TL, Desmarais S. Manual for the Short-Term As-sessment of Risk and Treatability (START) (Version 1.1). Port Coquitlam, BC: Forensic Psychiatric Services Commission and St. Joseph's Healthcare,2009
13. de Vogel V, de Ruiter C, Bouman Y, Robbé, M. Guidelines for the assessment of protec-tive factors for violence risk (2nd Edition) SAPROF International, 2018
14. Kennedy HG, O'Neill C, Flynn G, Gill P, Davoren, M. Dangerousness understanding, recovery and urgency manual (the Dundrum quartet) - four structured professional judge-ment instruments for admission Triage, Ur-gency, Treatment Completion and Recovery, Dublin, Ireland: Trinity College Dublin, 2013
15. Robbé M, de Vogel V, Stam, J. Protective factors for violence risk: the value for clinical practice. Psych 2012;3(12):1259-63
16. Robbé M, de Vogel V, de Spa E. Protective factors for violence risk in forensic psychiat-ric patients: a retrospective validation study of the SAPROF. Int J Forensic Ment Health 2011;10(3):178-86
17. Abidin Z, Davoren, M, Naughton, L, Gibbons, O, Nulty, A, Kennedy, HG. Susceptibility (risk and protective) factors for in-patient violence and self-harm: prospective study of struc-tured professional judgement instruments START and SAPROF, DUNDRUM-3 and DUNDRUM-4 in forensic mental health ser-vices. BMC psychiatry 2013;13(1):197
18. Kashiwagi H, Kikuchi A, Koyama M, Saito D, Hirabayash, N. Strength-based assessment for future violence risk: a retrospective valida-tion study of the Structured Assessment of PROtective Factors for violence risk (SAPROF) Japanese version in forensic psy-chiatric inpatients. Ann Gen Psychiatry 2018;17(1):5
19. Elbogen EE, Mercado CC, Scalora MJ, Tom-kins, AJ. Perceived relevance of factors for violence risk assessment: a survey of clini-cians. Int J Forensic Ment Health 2002;1(1):37-47
20. Sturidsson K, Haggård-Grann U, Lotterberg M, Dernevik M, Grann M. Clinicians' percep-tions of which factors increase or decrease the risk of violence among forensic out-patients, Int J Forensic Ment Health 2004;3(1):23-36
21. Clancy L, Happell, B. Being accountable or filling in forms: managers and clinicians' views about communicating risk. Perspect Psychiatr Care 2017;53:38–46
22. Sawyer A, Green D, Moran A, Brett, J. Should the nurse change the light globe?: human service professionals managing risk on the frontline. J Sociol 2009;45(4):361-81.
23. Crocker, AG, Braithwaite, E, Laferrière D, Gagnon D., Venegas, C, Jenkins, T. START changing practice: implementing a risk as-sessment and management tool in a civil psychiatric setting. Int J Forensic Ment Health 2011;10(1):13-28
24. Palinkas LA, Horwitz SM, Green CA, Wisdom JP, Duan N, Hoagwood, K. Purposeful sam-pling for qualitative data collection and analy-sis in mixed method implementation re-search. Adm Policy Ment Health 2015;42(5):533–44
25. Merriam SB, Tisdell, EJ. Qualitative Re-search: a Guide to Design and Implementa-tion (4th Edition). San Fransico: California: Jossey- Wiley, 2015:174-81
26. Corbin JM, Strauss, A. Grounded theory research: procedures, canons, and evaluative criteria. Qual Sociol 1990;13(1):3-21
27. Grossoehme DH. Overview of qualitative research. J Health Care Chaplain. 2014;20(3):109–22
28. Boyle J, Kernohan WG, Rush, T. 'When you are tired or terrified your voice slips back into its old first place': the role of feelings in community mental health practice with foren-sic patients. J Soc Work Pract 2009;23(3):291-313
29. Moore E, Drennan, G. Complex forensic case formulation in recovery-oriented services: some implications for routine practice. Crim Behav Ment Health 2013;23(4):30-40
30. Livingston JD. What does success look like in the forensic mental health system? perspectives of service users and service providers. Int J Offender Ther Comp Criminol 2016;62(1):208–28
31. Livingston JD, Nijdam-Jones A, Team P.E.E.R. Perceptions of treatment planning in a forensic mental health hospital: a qualita-tive, participatory action research study. Int J Forensic Ment Health 2013;12(1):42-52
32. de Vogel V, de Ruiter, C. Structured profes-sional judgment of violence risk in forensic clinical practice: a prospective study into the predictive validity of the Dutch HCR-20. Psy-chol Crime Law 2006;12(3):321-36
33. Vandevelde S, Vander Laenen F, Van Damme L, Vanderplasschen W, Audenaert K, Broekaert E, et al. Dilemmas in applying strengths-based approaches in working with offenders with mental illness: a critical multi-disciplinary review. Aggress Violent Behav 2017;32:71-9
34. Cording JR, Christofferson, SB. Theoretical and practical issues for the measurement of protective factors. Aggress Violent Behav 2017;32:45-54
35. Rapp CA, Sullivan, WP. The strengths mod-el: Birth to toddlerhood. Adv Soc Work 2014; 15(1):129-42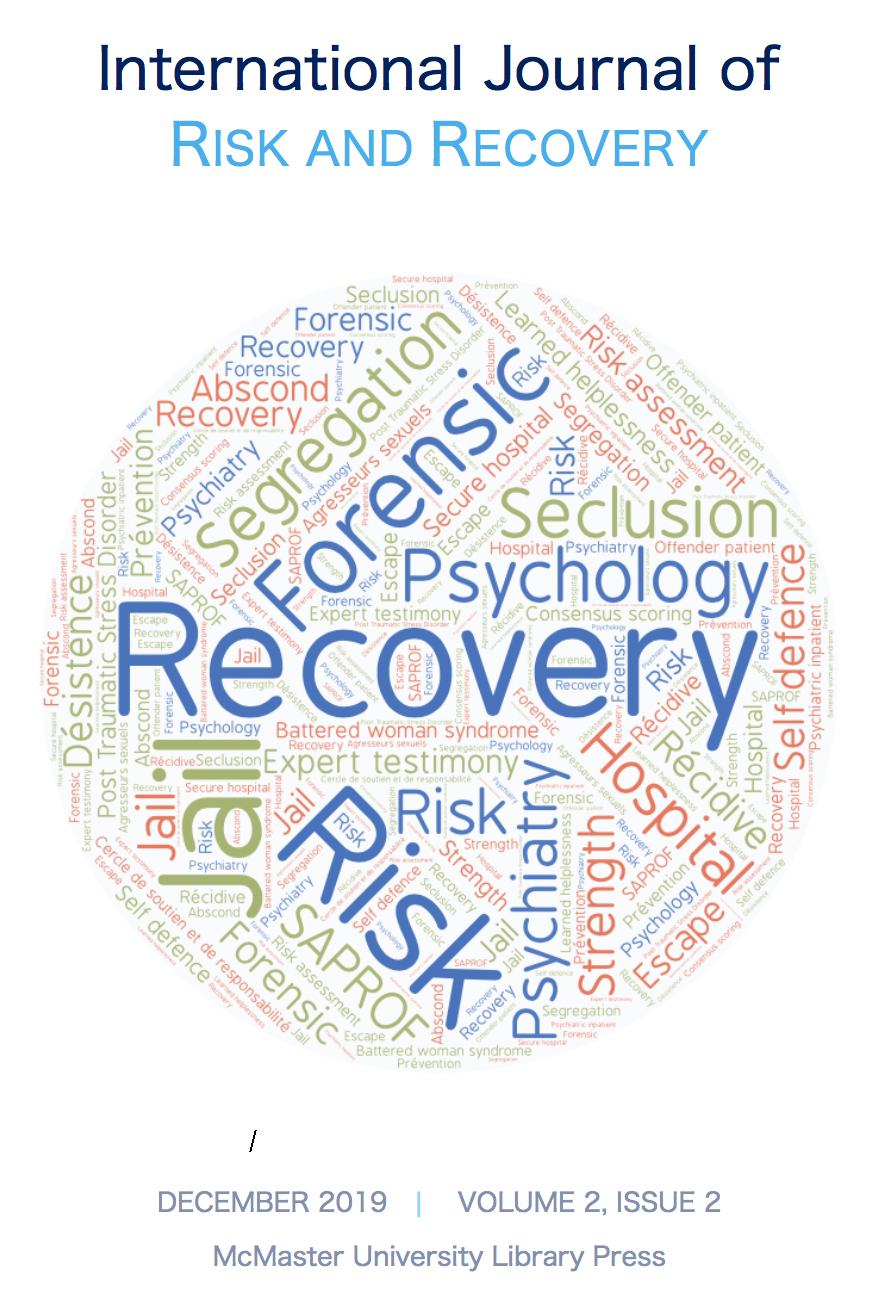 Authors who publish with this journal agree to the following terms:
Authors retain copyright and grant the journal right of first publication with the work simultaneously licensed under a Creative Commons Attribution License that allows others to share the work with an acknowledgement of the work's authorship and initial publication in this journal.
Authors are able to enter into separate, additional contractual arrangements for the non-exclusive distribution of the journal's published version of the work (e.g., post it to an institutional repository or publish it in a book), with an acknowledgement of its initial publication in this journal.
Authors are permitted and encouraged to post their work online (e.g., in institutional repositories or on their website) prior to and during the submission process, as it can lead to productive exchanges, as well as earlier and greater citation of published work (See The Effect of Open Access).