Offering group mental health programs in a maximum security correctional facility
Observations, outcomes and recommendations
Amar Ghelani

CAMH / Laurier University
Keywords:
Prison mental health groups, Correctional mental health, Forensic mental health, Forensic social work, Correctional social work, Prison social work
Abstract
In the following article, the author discusses psychoeducational groups offered in a men's maximum security prison by the Centre for Addiction and Mental Health's (CAMH) Forensic Early Intervention Service (FEIS) in partnership with correctional services staff.  The author shares observations and experiences facilitating mental health programs with clients in custody and explore related challenges, risks and opportunities. Outcomes and feedback from group participants are reviewed and recommendations for others interested in offering similar programs are presented.
References
Simpson AIF, McMaster JJ, Cohen SN. Challenges for Canada in meeting the needs of persons with serious mental illness in Pris-on. J Am Acad Psychiatry Law 2013;41(4):501-9
Independent Review of Ontario Corrections Team. Corrections in Ontario: directions for reform. Queens Printer for Ontario. 2017 (accessed on November 25, 2019)
Simpson AIF, Jones RM. Two challenges affecting access to care for clients with seri-ous mental illness: Detecting illness and ac-ceptable services. Can J Psychiatry 2018;63(10):648–50
McMurran M. Motivational interviewing with offenders: a systematic review. Legal Crimi-nol Psychol 2009;14(1):83-100
Shelton D, Sampl S, Kesten KL, et al. (2009). Treatment of impulsive aggression in correc-tional settings. Behav Sci Law 2009;27(5):787-800
Glancy G, Simpson AIF. Ethical dilemmas in correctional institutions. In E. Griffith (Ed.), Ethics challenges in forensic psychiatry and psychology practice. New York, NY: Colum-bia University Press, 2018:101-15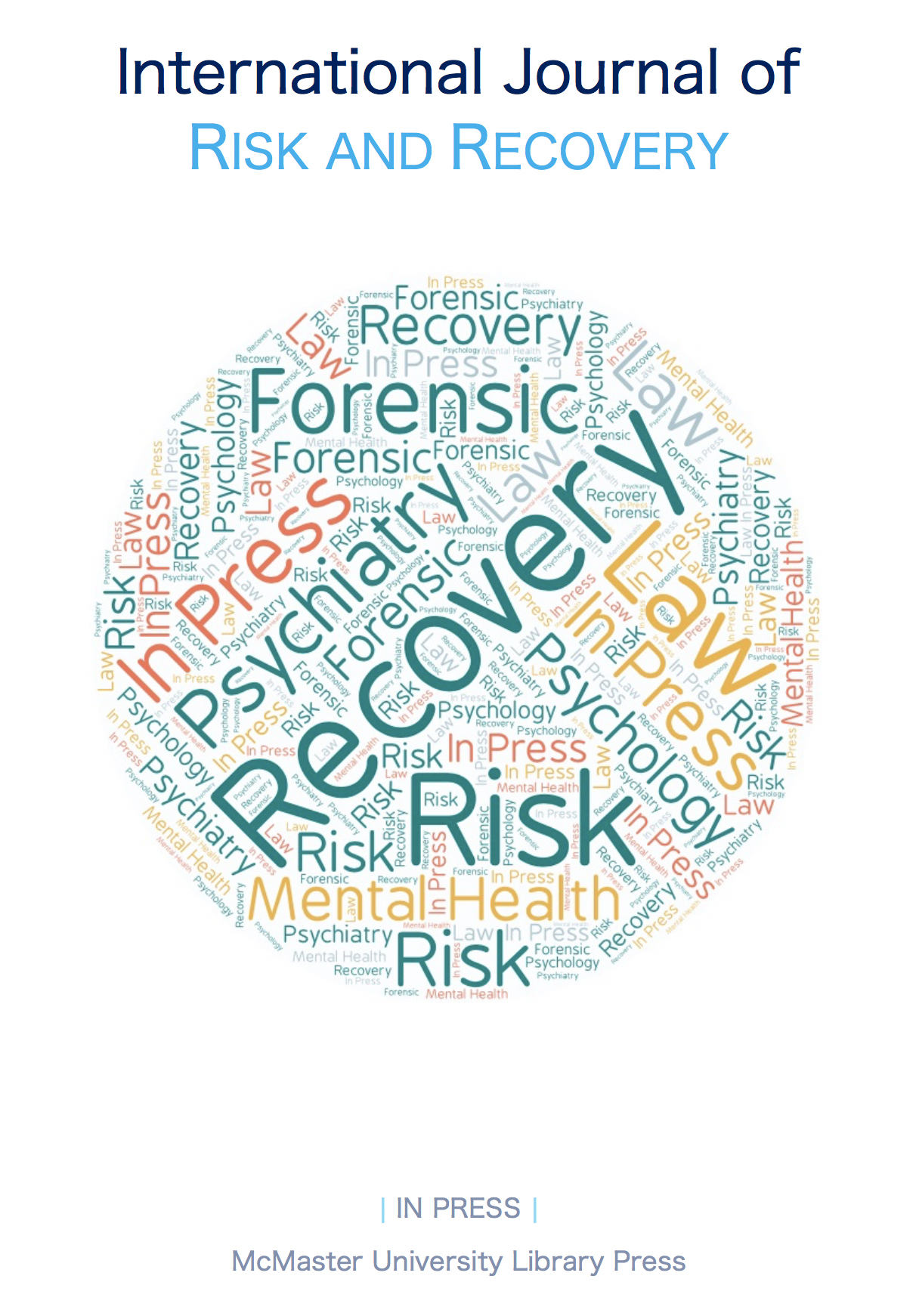 How to Cite
Ghelani, A. (2019). Offering group mental health programs in a maximum security correctional facility. International Journal of Risk and Recovery. https://doi.org/10.15173/ijrr.v3i1.4030
Section
Letter to the Editor
Authors who publish with this journal agree to the following terms:
Authors retain copyright and grant the journal right of first publication with the work simultaneously licensed under a Creative Commons Attribution License that allows others to share the work with an acknowledgement of the work's authorship and initial publication in this journal.
Authors are able to enter into separate, additional contractual arrangements for the non-exclusive distribution of the journal's published version of the work (e.g., post it to an institutional repository or publish it in a book), with an acknowledgement of its initial publication in this journal.
Authors are permitted and encouraged to post their work online (e.g., in institutional repositories or on their website) prior to and during the submission process, as it can lead to productive exchanges, as well as earlier and greater citation of published work (See The Effect of Open Access).