Ethics, risk and recovery
Challenges in forensic practice
DOI:
https://doi.org/10.15173/ijrr.v4i1.4823
Keywords:
Forensic psychiatry, Forensic mental health, Forensic care, Psychiatric care, Ethics, Ethical challenges, Risk, Recovery, Autonomy, Confidentiality, Conflicting role, Dual role
Abstract
The practice of recovery-oriented care with individuals who have been found unfit to stand trial or not criminally responsible, and who are subject to review board dispositions, presents a variety of ethical tensions. The assessment and management of risk in a rehabilitative context raises issues related to autonomy, confidentiality and conflicting roles. Awareness of and, where possible, resolution of these conflicts is necessary for the success of the recovery paradigm in this context.
References
Appelbaum PS. Ethics and forensic psychiatry: translating principles into practice. J Am Acad Psychiatry Law. 2008;36(2):195-200.
Adshead G. Care or custody? Ethical
dilemmas in forensic psychiatry. J Med Ethics. 2000 Oct;26(5):302-4.
https://doi.org/10.1136/jme.26.5.302.
Robertson MD, Walter G. Many faces of the dual-role dilemma in psychiatric ethics. Aust N Z J Psychiatry. 2008 Mar;42(3):228-5.
Munetz MR. Black robe/white coat: Mental health providers must reclaim the role of caring clinician. Psychiatr Serv. 2020 Apr;71(4):403-4.
Anthony WA. Recovery from mental illness: The guiding vision of the mental health service system in the 1990s. Psychosocial
Rehabilitation Journal. 1993;16(4):11-23. https://doi.org/10.1037/h0095655.
Simpson AI, Penney SR. The recovery paradigm in forensic mental health services. (Editorial). Crim Behav Ment Health. 2011 Dec;21(5): 299-306. https://doi.org/10.1002/cbm.823.
Kaliski SZ, de Clercg HG. When coercion meets hope: Can forensic psychiatry adopt the recovery model? Afr J Psychiatry (Johannesbg). 2012 May;15(3):162-6. 166.
https://doi.org/10.4314/ajpsy.v15i3.20.
Nilsson T, Munthe C, Gustavson C, Forsman A, Anckaräter H. The precarious practice of forensic psychiatric risk assessments. Int J Law Psychiatry. 2009 Nov-Dec;32(6):400-7. https://doi.org/10.1016/j.ijlp.2009.09.010.
Mann B, Matias A, Allen J. Recovery in forensic services: Facing the challenge. Advances in Psychiatric Treatment. Cambridge University Press; 2014;20(2):125-31.
Dorkins E, Adshead G. Working with
offenders: Challenges to the recovery agenda. Advances in Psychiatric Treatment. Cambridge University Press; 2011;17 (3):178-87.
Papapietro DJ. Involving forensic patients in treatment planning increases cooperation and may reduce violence risk. J Am Acad
Psychiatry Law. 2019 Mar;47(1):35-41.
http://jaapl.org/content/47/1/35.
Ray I, Simpson AIF. Shared risk formulation in forensic psychiatry. J Am Acad Psychiatry Law. 2019 Mar;47(1):22-8.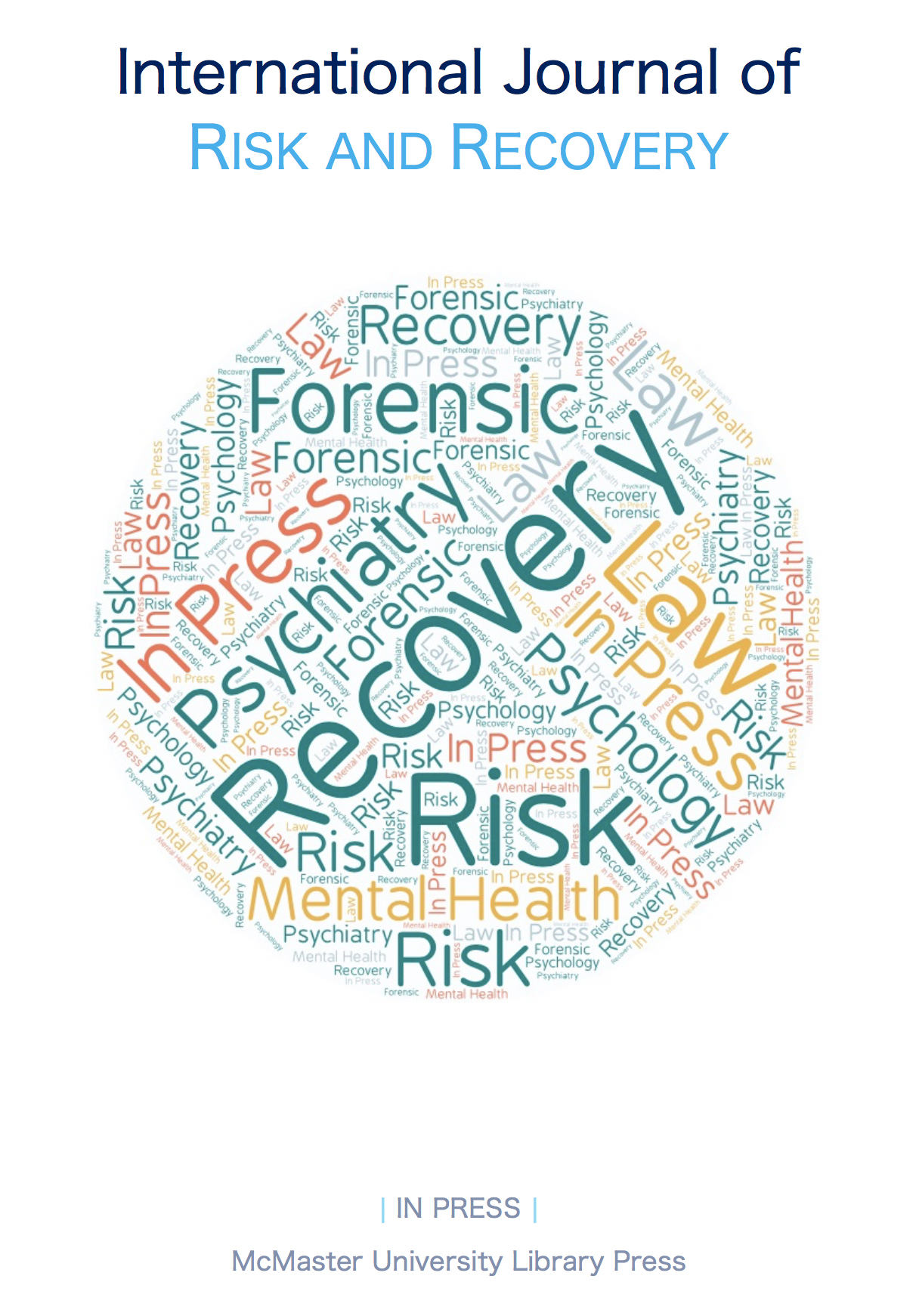 Downloads
How to Cite
Ferencz, J. (2021). Ethics, risk and recovery: Challenges in forensic practice. International Journal of Risk and Recovery, 1–2. https://doi.org/10.15173/ijrr.v4i1.4823
License
Copyright (c) 2021 Joseph Ferencz
This work is licensed under a Creative Commons Attribution 3.0 Unported License.
Copyright Notice
Authors who publish with this journal agree to the following terms:
Authors retain copyright of their work and grant the International Journal of Risk and Recovery the right of first publication with the work simultaneously licensed under a Creative Commons Attribution License. This allows others to share the work with an acknowledgement of the work's authorship and initial publication in this journal.
Authors are able to enter into separate, additional contractual arrangements for the non-exclusive distribution of the journal's published version of the work (e.g., post it to an institutional repository or publish it in a book) with an acknowledgement of its initial publication in this journal.
Authors are permitted and encouraged to post their work online (e.g., in institutional repositories or on their websites) before and during the submission process as it can lead to productive exchanges, as well as earlier and greater citation of published work. (See The Effect of Open Access.)