Relationships between patient-level factors and criteria for fitness to stand trial
Teodora Prpa

Faculty of Law, University of Western Ontario, London, Canada

Heather Marie Moulden

McMaster University, Department of Psychiatry and Behavioural Neurosciences & Forensic Psychiatry Program, St. Joseph's Healthcare Hamilton, Hamilton, Canada

Liane Taylor

Forensic Psychiatry Program, St. Joseph's Healthcare Hamilton, Hamilton, Canada

Gary Andrew Chaimowitz

McMaster University, Department of Psychiatry and Behavioural Neurosciences & Forensic Psychiatry Program, St. Joseph's Healthcare Hamilton, Hamilton, Canada
Abstract
In Western criminal justice systems, proceedings may be halted if an individual is deemed mentally unfit to stand trial. As a prerequisite to adjudication fitness to stand trial can be evaluated through structured or unstructured assessments. Previousstudies suggest limited use of structured assessments in clinical practice. Few studies have looked at the success of unstructured measures of psycholegal abilities, and fewer still have investigated the influence of individual variables on criteria for fitness to stand trial. The purpose of the present study was to examine the relationship between variables relevant to opining fitness as determined by previous research and the criteria for fitness to stand trial. The study yielded significant correlations between the three criteria for fitness to stand trial and the following variables: impaired mental status during assessment, presence of intellectual disability, nature of index offence, socioeconomic status, and all unstructured measures of psycholegal abilities. These results suggest that unstructured clinician assessment of fitness to stand trial can be successful at determining fitness and fulfillment of the three underlying criteria, and further clarify the role of specific symptoms on opinions of unfitness. Future directions for research in the areas of structured professional judgment and fitness restoration are discussed.
References
Criminal Code of Canada, RSC 1985, c 46. http://laws-lois.justice.gc.ca/PDF/C-46.pdf
Dusky v United States (1960) 362 US 402. https://supreme.justia.com/cases/federal/us/362/402/case.html
Prpa T, Moulden HM, Taylor L, Chaimowitz GA. A review of patient-level factors related to the assessment of fitness to stand trial in Canada. Int J Risk Recovery. 2018;
Borum R, Grisso T. Psychological test use in criminal forensic evaluations. Prof Psychol Res Pr. 1995;26.
Gay JG, Ragatz L, Vitacco M. Mental Health Symptoms and their Relationship to Specific Deficits in Competency to Proceed to Trial Evaluations. Psychiatry Psychol Law. 3 sept 2015;22(5):780‑91.
Nicholson RA, Kugler KE. Competent and incompetent criminal defendants: A quantitative review of comparative research. Psychol Bull. 1991;109(3):355‑70.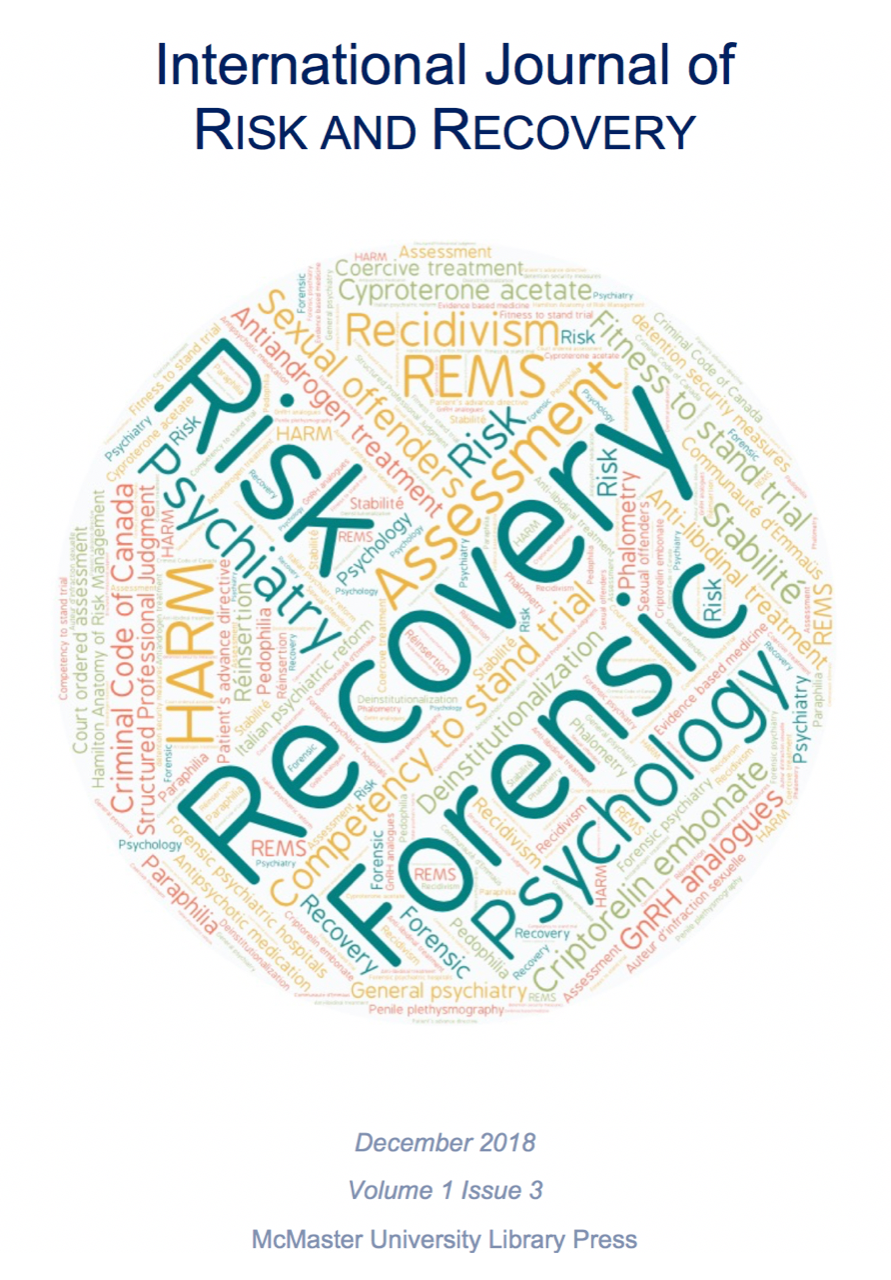 How to Cite
Prpa, T., Moulden, H., Taylor, L., & Chaimowitz, G. (2018). Relationships between patient-level factors and criteria for fitness to stand trial. International Journal of Risk and Recovery, 1(3), 6-14. https://doi.org/10.15173/ijrr.v1i3.3530
Authors who publish with this journal agree to the following terms:
Authors retain copyright and grant the journal right of first publication with the work simultaneously licensed under a Creative Commons Attribution License that allows others to share the work with an acknowledgement of the work's authorship and initial publication in this journal.
Authors are able to enter into separate, additional contractual arrangements for the non-exclusive distribution of the journal's published version of the work (e.g., post it to an institutional repository or publish it in a book), with an acknowledgement of its initial publication in this journal.
Authors are permitted and encouraged to post their work online (e.g., in institutional repositories or on their website) prior to and during the submission process, as it can lead to productive exchanges, as well as earlier and greater citation of published work (See The Effect of Open Access).