Evidence-Based Practice in the Evaluation and Treatment of Sexual Offenders
DOI:
https://doi.org/10.15173/ijrr.v1i3.3800
Keywords:
Sexual offenders, Evidence-based practice, Treatment, Evaluation, Best practice
Abstract
This editorial addresses evidence based medical practice in forensic psychiatry and particularly in the field of paraphilia. John M. Bradford is a Professor in the Department of Psychiatry and Behavioural Neurosciences, McMaster University. He is an Emeritus Professor at the University of Ottawa where he was a founder of the Royal Ottawa Institute of Mental Health Research. He is a Founder of Forensic Psychiatry, granted by the Royal College of Physicians and Surgeons of Canada. Abdullah H Alqahtani is an Assistant Professor and Consultant Psychiatrist at King Fahd University Hospital, Imam Abdulrahman Bin Faisal University, Dammam, Saudi Arabia. He is currently completing a clinical fellowship in forensic psychiatry at McMaster University - St. Joseph's Healthcare Hamilton. Andrew T. Olagunju is an academic psychiatrist with a Senior Lecturer position at the College of Medicine, University of Lagos, Nigeria. He is also completing a clinical fellowship at McMaster University - St. Joseph's Healthcare Hamilton.
References
Guyatt GH. Evidence-based medicine. ACP J Club 1991;114:(suppl 2) A16.
Sackett DL. Evidence-based medicine. Seminars in Perinatology 1997;21(1):3-5.
Glancy GD, Bradford JM. The admissibility of expert evidence in Canada. J Am Acad Psychiatry Law 2007;35(3):350-6.
Daubert v. Merrell Dow. Pharmaceuticals, Inc. 509 U.S. 579 (1993)y. https://supreme.justia.com/cases/federal/us/509/579/
R. v. Mohan. [1992] 2 S.C.R. 9. https://scc-csc.lexum.com/scc-csc/scc-csc/en/item/1131/index.do
R. v. J. (J.‐L.). [1999] 130 C.C.C. (3d) 541 (Que. C.A.). https://scc-csc.lexum.com/scc-csc/scc-csc/en/item/1815/index.do
Schneider RD. Commentary: evidence-based practice and forensic psychiatry. J Am Acad Psychiatry Law 2009;37(4):503-8.
Borenstein D. Evidence-based psychiatry. Psychiatric News 2001;36:3.
Glancy GD, Saini M. The confluence of evidence-based practice and Daubert within the fields of forensic psychiatry and the law. J Am Acad Psychiatry Law 2009;37(4):438-41.
Sackett DL, Rosenberg WM, Gray JA, Haynes RB, Richardson WS. Evidence based medicine: what it is and what it isn't. Clin Orthop Relat Res 2007;455:3-5.
American Psychiatric Association. Diagnostic and Statistical Manual of Mental Disorders. 5th edition. Washington DC, USA: American Psychiatric Publishing, 2014.
Bradford JM, Boulet J, Pawlak A. The paraphilias: a multiplicity of deviant behaviours. Can J Psychiatry 1992;37(2):104-8.
Bancroft JH, Jones HG, Pullan BR. A simple transducer for measuring penile erection with comments on its use in the treatment of sexual disorders. Behav Res Ther 1966;4(3):239-41
Fedoroff JP, Kuban M, Bradford JM. Laboratory measurements of penile response in the assessment of sexual interests. In: Saleh F, Grudzinskas A, Bradford J, Brodsky (Eds). Sex Offenders: Identification, risk assessment, treatment and legal issues. New York: Oxford University Press; 2009.
Bourget D, Bradford JM, John MW. Evidential Basis for the Assessment and Treatment of Sex Offenders. Brief Treat Crisis Interv 2008;8(1):130-146.
Hanson RK, Thornton D. Improving risk assessment of sex offenders: A comparison of three acturial scales. Law Hum Behav 2000;24:119-136.
Hare RD (Ed). The Hare Psychopathy Checklist Revised (PCL-R). 2nd Ed. Toronto, ON: Multi- Health Systems Inc. 2003.
Hanson RK, Bussiere MT. Predicting relapse: a meta-analysis of sexual offender recidivism studies. J Consult Clin Psychol 1998;66(2):348-62.
Bancroft J. The endocrinology of sexual arousal. J Endocrinol 2005;186(3):411-27.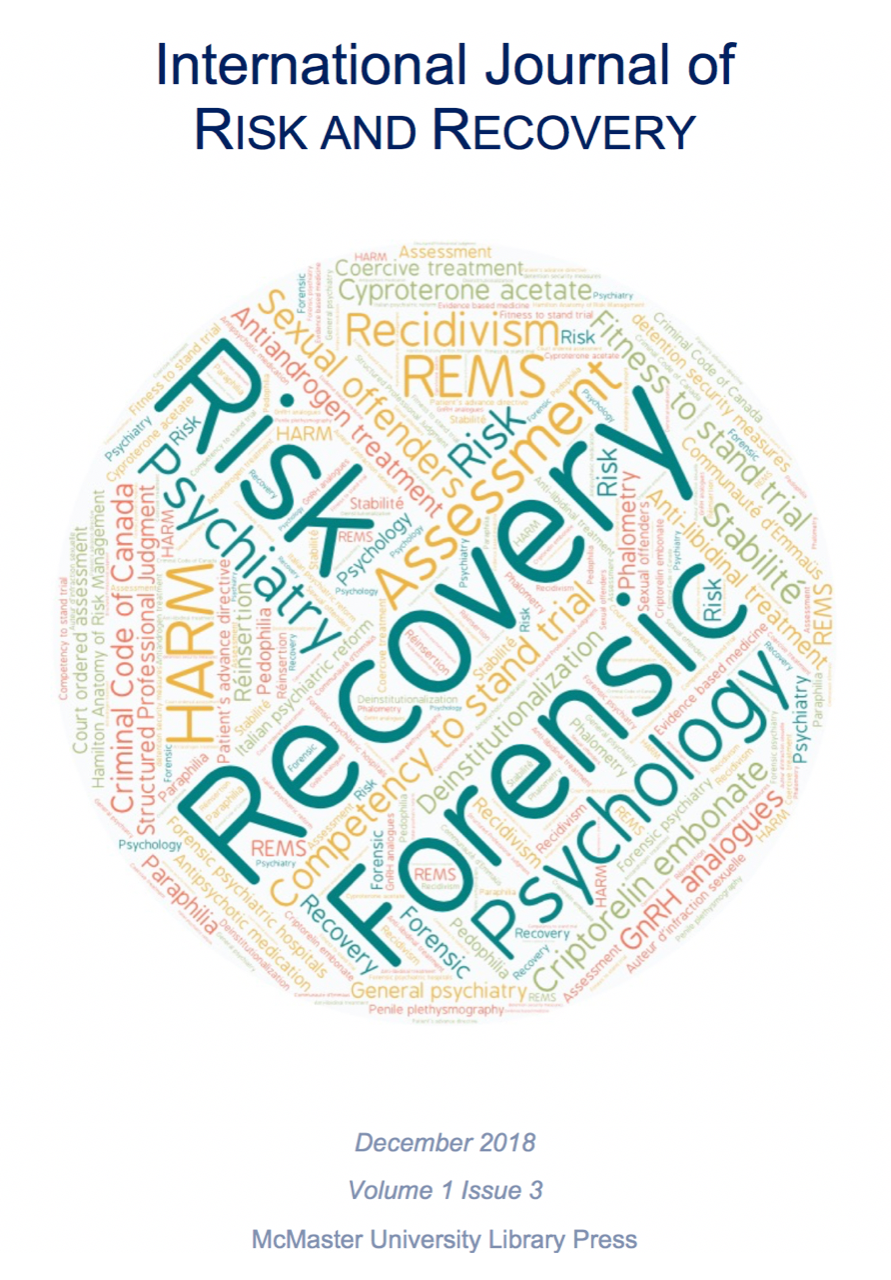 Downloads
How to Cite
Bradford, J., Alqahtani, A. H., & Olagunju, A. T. (2018). Evidence-Based Practice in the Evaluation and Treatment of Sexual Offenders. International Journal of Risk and Recovery, 1(3), 1–5. https://doi.org/10.15173/ijrr.v1i3.3800
License
Copyright Notice
Authors who publish with this journal agree to the following terms:
Authors retain copyright of their work and grant the International Journal of Risk and Recovery the right of first publication with the work simultaneously licensed under a Creative Commons Attribution License. This allows others to share the work with an acknowledgement of the work's authorship and initial publication in this journal.
Authors are able to enter into separate, additional contractual arrangements for the non-exclusive distribution of the journal's published version of the work (e.g., post it to an institutional repository or publish it in a book) with an acknowledgement of its initial publication in this journal.
Authors are permitted and encouraged to post their work online (e.g., in institutional repositories or on their websites) before and during the submission process as it can lead to productive exchanges, as well as earlier and greater citation of published work. (See The Effect of Open Access.)