Vicarious trauma and occupational hazard for forensic mental health professionals
DOI:
https://doi.org/10.15173/ijrr.v3i1.4533
Keywords:
forensic mental health, vicarious trauma, forensic assessment, criminal justice, traumatic stress
Abstract
This editorial deals with vicarious trauma in the context of forensic mental health assessment and care.
References
McCann LP, Pearlman LA. Vicarious traumatization: A framework for understanding the psychological effects of working with victims. J Traum Stress; 1990;3(1):131-49.
Borenstein M. [Compassion fatigue and vicarious trauma in caregivers]. Soins Pediatr Pueric. 2018;39(304):13-15.
Brockhouse R, Msetfi RM, Cohen K, Joseph S. Vicarious exposure to trauma and growth in therapists: the moderating effects of sense of coherence, organizational support, and empathy. J Trauma Stress. 2011;24(6):735-42.
Cosden M,Sanford A, Koch LM, Lepore CE. Vicarious trauma and vicarious posttraumatic growth among substance abuse treatment providers. Subst Abus. 2016;37(4):619-624.
Crothers, D. Vicarious traumatization in the work with survivors of childhood trauma. J Psychosoc Nurs Ment Health Serv. 1995;33(4):9-13.
Devilly GJ, Wright R, Varker T. Vicarious trauma, secondary traumatic stress or simply burnout? Effect of trauma therapy on mental health professionals. Aust N Z J Psychiatry. 2009;43(4):373-85.
Jenkins SR,Baird S. Secondary traumatic stress and vicarious trauma: a validational study. J Trauma Stress. 2002;15(5):423-32.
Keenan P, Royle L. Vicarious trauma and first responders: a case study utilizing eye movement desensitization and reprocessing (EMDR) as the primary treatment modality. Int J Emerg Ment Health. 2007;9(4):291-8.
Mathieu F. Occupational hazards: compassion fatigue, vicarious trauma and burnout. Can Nurse. 2014;110(5):12-3.
Mishori R, Mujawar I, Ravi N. Self-reported vicarious trauma in asylum evaluators: a preliminary survey. J Immigr Minor Health. 2014;16(6):1232-7.
Munger T, Savage T, Panosky DM. When caring for perpetrators becomes a sentence: recognizing vicarious trauma. J Correct Health Care. 2015;21(4):365-74.
Palm KM, Polusny MA, Follette VM. Vicarious traumatization: potential hazards and interventions for disaster and trauma workers. Prehosp Disaster Med. 2004;19(1):73-8.
Pearlman LA. Re. Social work in oncology-managing vicarious trauma-the positive impact of professional supervision. Letter to the editor. Soc Work Health Care. 2014;53(8):693-4.
Raunick CB, Lindell DF, Morris DL, Beckman T. Vicarious trauma among sexual assault nurse examiners. J Forensic Nurs. 2015;11(3):123-8; quiz E1.
Silveira FS, Boyer W. Vicarious resilience in counselors of child and youth victims of interpersonal trauma. Qual Health Res. 2015;25(4):513-26.16. Way I, VanDeusen KM, Cottrell T. Vicarious trauma: predictors of clinicians' disrupted cognitions about self-esteem and self-intimacy. J Child Sex Abus. 2007;16(4):81-98.
Way I, VanDeusen KM, Martin G, Applegate B, Jandle D. Vicarious trauma: a comparison of clinicians who treat survivors of sexual abuse and sexual offenders. J Interpers Violence. 2004;19(1):49-71.
Woolhouse S, Brown JB, Thind A. "Building through the grief": vicarious trauma in a group of inner-city family physicians. J Am Board Fam Med. 2012;25(6):840-6.
Makadia R, Sabin-Farrell R, Turpin G. Indirect exposure to client trauma and the impact on trainee clinical psychologists: Secondary traumatic stress or vicarious traumatization? Clin Psychol Psychother. 2017;24(5):1059-1068.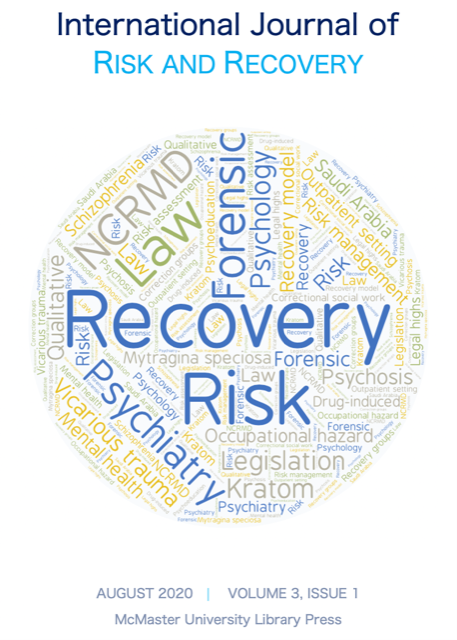 Downloads
How to Cite
Bradford, J., & Chaimowitz, G. (2020). Vicarious trauma and occupational hazard for forensic mental health professionals. International Journal of Risk and Recovery, 3(1), 1–2. https://doi.org/10.15173/ijrr.v3i1.4533
License
Copyright Notice
Authors who publish with this journal agree to the following terms:
Authors retain copyright of their work and grant the International Journal of Risk and Recovery the right of first publication with the work simultaneously licensed under a Creative Commons Attribution License. This allows others to share the work with an acknowledgement of the work's authorship and initial publication in this journal.
Authors are able to enter into separate, additional contractual arrangements for the non-exclusive distribution of the journal's published version of the work (e.g., post it to an institutional repository or publish it in a book) with an acknowledgement of its initial publication in this journal.
Authors are permitted and encouraged to post their work online (e.g., in institutional repositories or on their websites) before and during the submission process as it can lead to productive exchanges, as well as earlier and greater citation of published work. (See The Effect of Open Access.)