Jail segregation today, hospital seclusion tomorrow
DOI:
https://doi.org/10.15173/ijrr.v2i2.4188
Keywords:
Forensic psychiatry, jail, psychiatric hospital, segregation, seclusion, human rights
Abstract
Gary Chaimowitz is a Professor of Psychiatry at McMaster University and the Head of the Forensic Psychiatry Program at St. Joseph's Healthcare Hamilton. Among many roles, Professor Chaimowitz has been granted Forensic Psychiatry Founder Status. He is one of the creators the Hamilton Anatomical Risk Management (HARM) and the Aggressive Incident Scale (AIS). Professor Chaimowitz is the Editor in Chief of the International Journal of Risk and Recovery.
References
Annual report of the office of the Correctional Investigator 2014-2015. (accessed on De-cember 30, 2019)
Annual report of the office of the Correctional Investigator 2015-2016. (accessed on De-cember 30, 2019)
Grassian, S. Psychiatric effects of solitary confinement. Wash. UJL & Pol'y 2006;22(1):325-83
Arrigo BA, Bullock JL. The psychological effects of solitary confinement on prisoners in supermax units: reviewing what we know and recommending what should change. Int J Of-fend Therapy 2007;52(6):622-40
Lobel J. Prolonged solitary confinement and the Constitution. U Pa J Const L 2008;11(1):115-38
Gordon SE. Solitary confinement, public safe-ty, and recidivism. U Mich JL Reform 2014;47(2):495-528
Pizarro J, Stenius VMK. Supermax prisons: their rise, current practices, and effects on inmates. Prison J 2004;84(2):248-64
Madrid v. Gomez, 889. F. Suppl.1146 1230-32 (N.D. 1995). (accessed on December 30, 2019)
Human Rights Watch. Written statement to the Committee on the Judiciary, Subcommit-tee on the Constitution, Civil Rights and Hu-man Rights. December 9, 2014. (accessed on December 30, 2019)
Ayan A, Baykal T, Beynon J, Dromer C, Korur Fincancı S,Gautier A et al. (Task group participants). The Istanbul statement on the use and effects of solitary confinement adopted on 9. December 2007 at the Interna-tional Trauma Symposium, Istanbul. Torture 2008;18(1):63-6
Méndez RJ (Special Rapporteur of the Hu-man Rights Council, United Nations). Torture and other cruel, inhuman, or degrading treat-ment or punishment (interim report). Resolu-tion A/66/268. 5 August 2011. (accessed on December 30, 2019)
Segregation in Ontario: independent review of Ontario corrections. Toronto: Queen's Printer for Ontario, 2017. (accessed on December 30, 2019)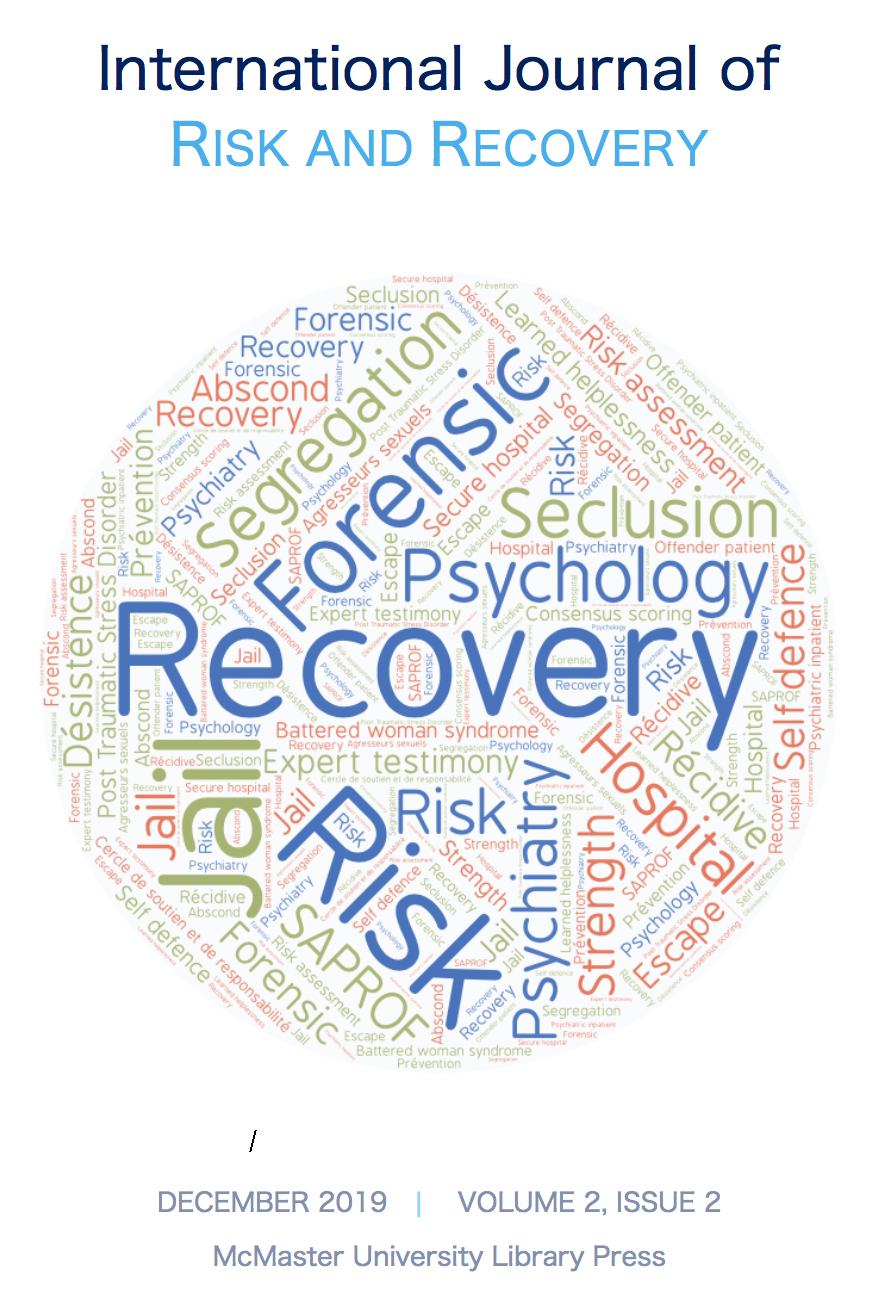 Downloads
How to Cite
Chaimowitz, G. (2019). Jail segregation today, hospital seclusion tomorrow. International Journal of Risk and Recovery, 2(2), 1–3. https://doi.org/10.15173/ijrr.v2i2.4188
License
Copyright Notice
Authors who publish with this journal agree to the following terms:
Authors retain copyright of their work and grant the International Journal of Risk and Recovery the right of first publication with the work simultaneously licensed under a Creative Commons Attribution License. This allows others to share the work with an acknowledgement of the work's authorship and initial publication in this journal.
Authors are able to enter into separate, additional contractual arrangements for the non-exclusive distribution of the journal's published version of the work (e.g., post it to an institutional repository or publish it in a book) with an acknowledgement of its initial publication in this journal.
Authors are permitted and encouraged to post their work online (e.g., in institutional repositories or on their websites) before and during the submission process as it can lead to productive exchanges, as well as earlier and greater citation of published work. (See The Effect of Open Access.)