Female sexual offenders and judicial decision-making
DOI:
https://doi.org/10.15173/ijrr.v3i2.4123
Keywords:
female sexual offenders, sexual offending, justice system, sentencing characteristics, judge's decision-making
Abstract
Background: Research examining female sexual offending is limited, and the profile of this unique offender group is not well understood. Female sexual offending has largely been identified as a rare occurrence, typically perpetrated in the context of an unhealthy relationship with a paraphilic male counterpart. Given recent changes in law and minimum sentences for sexual offences—particularly in relation to child pornography and child luring offences—it remains unknown how this has impacted sentencing of female offenders charged with sexual offences.
Objectives: The goal of this study is to better understand female offenders convicted of sexual offences and their offence characteristics. Additionally, it seeks to identify patterns in judges' decision-making with respect to aggravating and mitigating factors that impact sentencing decisions.
Methods: A sample of 26 judges' sentencing decisions between 2000 and 2017 were obtained to investigate the Canadian female sexual offender (FSO) as she enters the justice system.
Results: In the study sample, high rates of psychopathology and childhood trauma were important features of this offender group. Offences tended to occur over extended periods, with a male co-offender, and with a young victim that was well known to the offender. Aggravating factors related to the vulnerability of the victim, abuse of power, and lack of insight. Mitigating factors related to accepting responsibility and a desire for self-change. Offenders were generally sentenced for two to five years, with ancillary orders intended to track and restrict further offending, rather than foster rehabilitation.
Discussion: Gaining a better understanding of Canadian FSO population is the first step toward improving rehabilitation and prevention.
References
Lawson C. Mother-son sexual abuse: rare or underreported? A critique of the research. Child Abuse Neg. 1993 Mar-Apr;17(2):261-9. doi: 10.1016/0145-2134(93)90045-7.
Williams KS, Bierie DM. An incident-based comparison of female and male sexual offenders. Sex Abuse. 2015 Jun;27(3):235-57. doi: 10.1177/1079063214544333. Epub 2014 Jul 29.
Sarrel PM, Masters WH. Sexual molestation of men by women. Arch Sex Beh. 1982 Apr;11(2):117-31. doi: 10.1007/BF01541979.
Saradjian J. Understanding the prevalence of female-perpetrated sexual abuse and the impact of that abuse on victims. In: Gannon TA, Cortoni F. (Eds.). Female sexual offenders: theory, assessment and treatment. West Sussex, UK: John Wiley & Sons 2010:9-30. doi: 10.1002/9780470666715.
Criminal Code, R.S.C., C-46, s. 718 (1985).
Criminal Code, R.S.C., C-46, s. 730-743 (1985).
Johnson RL, Shrier D. Past sexual victimization by females of male patients in an adolescent medicine clinic population. Am J Psychiatry. 1987 May;144(5):650-2. doi: 10.1176/ajp.144.5.650.
Levenson JS, Willis GM, Prescott DS. Adverse childhood experiences in the lives of female sex offenders. Sex Abuse. 2015 Jun;27(3):258-83. doi: 10.1177/1079063214544332. Epub 2014 Sep 10.
Nathan P, Ward T. Female sex offenders: clinical and demographic features. Sex Agg. 2002;8(1):5-21. doi: 10.1080/13552600208413329.
Vick J, McRoy R, Matthews BM. Young female sex offenders: assessment and treatment issues. J Child Sex Abus. 2002;11(2):1-23. doi: 10.1300/J070v11n02_01.
Christopher K, Lutz-Zois CJ, Reinhardt AR. Female sexual-offenders: personality pathology as a mediator of the relationship between childhood sexual abuse history and sexual abuse perpetration against others. Child Abuse Negl. 2007 Aug;31(8):871-83. doi: 10.1016/j.chiabu.2007.02.006. Epub 2007 Sep 5.
DeCou CR, Cole TT, Rowland SE, Kaplan SP, Lynch SM. An ecological process model of female sex offending: the role of victimization, psychological distress, and life stressors. Sex Abuse. 2015 Jun;27(3):302-23. doi: 10.1177/1079063214556359. Epub 2014 Nov 20.
Strickland SM. Female sex offenders: exploring issues of personality, trauma, and cognitive distortions. J Interpers Violence. 2008 Apr;23(4):474-89. doi: 10.1177/0886260507312944. Epub 2008 Feb 14.
Kaplan MS, Green A. Incarcerated female sexual offenders: a comparison of sexual histories with eleven female nonsexual offenders. Sex Abuse. 1995;7:287-300. doi: 10.1007/BF02256833.
Vandiver DM, Kercher G. Offender and victim characteristics of registered female sexual offenders in Texas: a proposed typology of female sexual offenders. Sex Abuse. 2004 Apr;16(2):121-37. doi: 10.1177/107906320401600203.
O'Connor AA. Female sex offenders. Br J Psychiatry. 1987 May;150:615-20. doi: 10.1192/bjp.150.5.615.
Miccio-Fonseca LC. Adult and adolescent female sex offenders: experiences compared to other female and male sex offenders. J Psychol Human Sex. 2000;11(3):75-88. doi: 10.1300/J056v11n03_08.
Gillespie SM, Williams R, Elliott IA, Eldridge HJ, Ashfield S, Beech AR. Characteristics of females who sexually offend: a comparison of solo and co-offenders. Sex Abuse. 2015 Jun;27(3):284-301. doi: 10.1177/1079063214556358. Epub 2014 Nov 16.
Harris DA. Theories of Female Sexual Offending. In Gannon TA, Cortoni F (eds). Female Sexual Offenders. Hoboken, New Jersey: John Wiley & Sons, Ltd., 2010:31-51.
Mathews R, Matthews JK, Speltz K. Female sexual offenders: an exploratory study. Brandon, VT: Safer Society Press, 1989.
Atkinson JL. Female sex offenders: a literature review. Forum Corr Res. 1996;8:39-42.
Cortoni F. Violence and women offenders. Wom Crim Jus. 2009:175-99.
Hunter JA, Figueredo AJ, Malamuth NM, Becker JV. Juvenile sex offenders: toward the development of a typology. Sex Abuse. 2003 Jan;15(1):27-48. doi: 10.1177/107906320301500103.
Wijkman M, Bijleveld C, Hendriks J. Women don't do such things! Characteristics of female sex offenders and offender types. Sex Abuse. 2010 Jun;22(2):135-56. doi: 10.1177/1079063210363826. Epub 2010 Mar 17.
Chow EW, Choy AL. Clinical characteristics and treatment response to SSRI in a female pedophile. Arch Sex Behav. 2002 Apr;31(2):211-5. doi: 10.1023/a:1014795321404.
Chivers ML, Rieger G, Latty E, Bailey JM. A sex difference in the specificity of sexual arousal. Psychol Sci. 2004 Nov;15(11):736-44. doi: 10.1111/j.0956-7976.2004.00750.x.
Suschinsky KD, Lalumière ML, Chivers ML. Sex differences in patterns of genital sexual arousal: measurement artifacts or true phenomena? Arch Sex Behav. 2009 Aug;38(4):559-73. doi: 10.1007/s10508-008-9339-8. Epub 2008 Mar 15.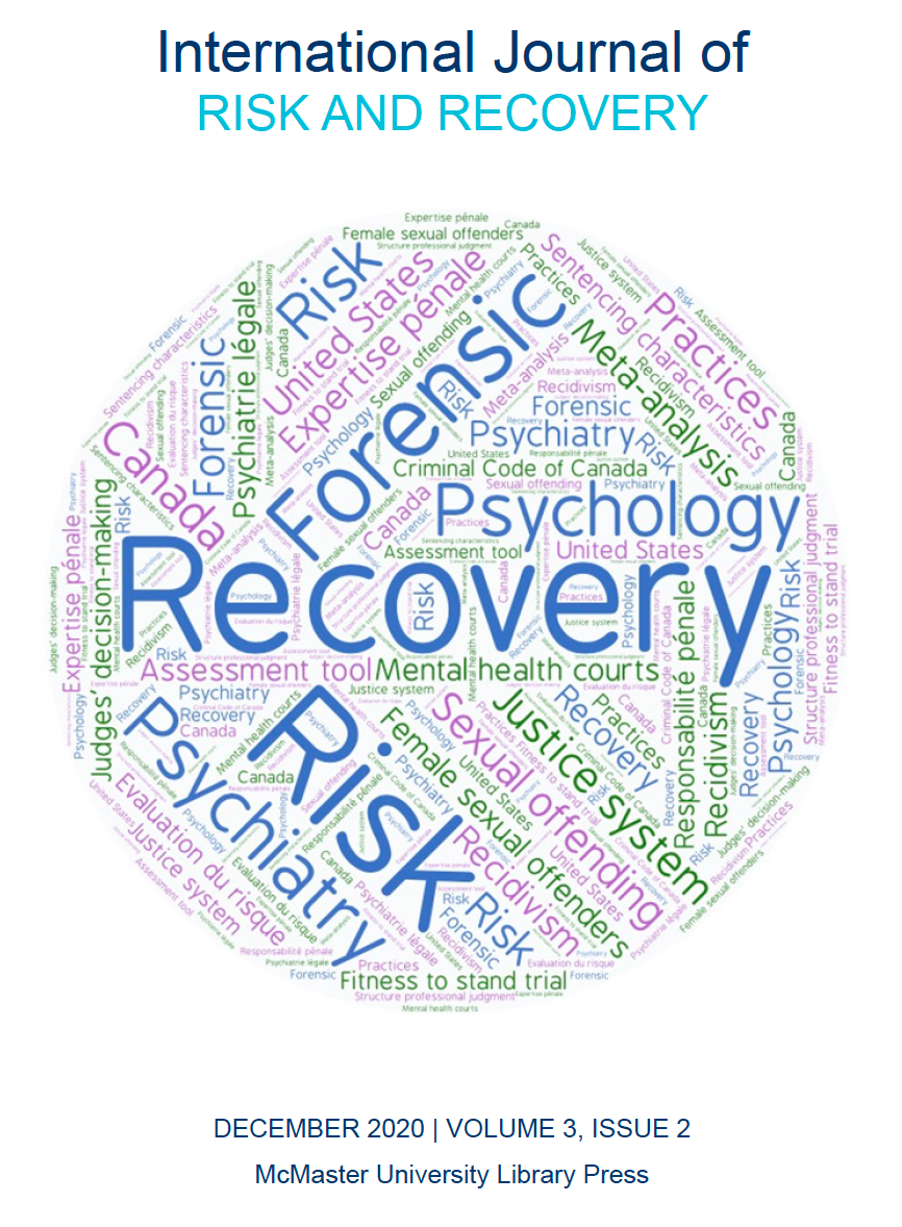 Downloads
How to Cite
Battaglia, A. M., & Mamak, M. (2020). Female sexual offenders and judicial decision-making. International Journal of Risk and Recovery, 3(2), 6–15. https://doi.org/10.15173/ijrr.v3i2.4123
License
Copyright Notice
Authors who publish with this journal agree to the following terms:
Authors retain copyright of their work and grant the International Journal of Risk and Recovery the right of first publication with the work simultaneously licensed under a Creative Commons Attribution License. This allows others to share the work with an acknowledgement of the work's authorship and initial publication in this journal.
Authors are able to enter into separate, additional contractual arrangements for the non-exclusive distribution of the journal's published version of the work (e.g., post it to an institutional repository or publish it in a book) with an acknowledgement of its initial publication in this journal.
Authors are permitted and encouraged to post their work online (e.g., in institutional repositories or on their websites) before and during the submission process as it can lead to productive exchanges, as well as earlier and greater citation of published work. (See The Effect of Open Access.)