The next generation of risk assessment and management
Introducing the eHARM
DOI:
https://doi.org/10.15173/ijrr.v1i1.3365
Abstract
Big data and analytics are rapidly changing health care and enabling a degree of measurement and quality improvement not previously seen. For a variety of reasons including the limited number of quality indicators in mental health care, psychiatry has been late to the game. Use of technology to measure, monitor, and assess risk and change, would have a significant impact for key stakeholders including patients, care providers, and the community. Analytics offer an opportunity to increase our understanding of the psychiatric populations, target effective programs and interventions, and direct more personalized care at the critical intersection of risk assessment and prediction – risk management. The electronic Hamilton Anatomy of Risk Management (eHARM) aims to harness the capabilities afforded by data analytics to enhance the assessment, monitoring, and management of risk at the clinical interface.
References
Wills MJ. Decisions through data: analytics in healthcare. J Healthc Manag 2014;59(4)
Stead WW, Searle JR, Fessler HE, Smith JW, Shortliffe EH. Biomedical informatics: chang-ing what physicians need to know and how they learn. Acad Med 2011;86(4)
Chawla NV, Davis DA. Bringing big data to personalized healthcare: a patient-centered framework. J Gen Intern Med 2013;28(3): 660‑5
Raghupathi W, Raghupathi V. Big data analyt-ics in healthcare: promise and potential. Health Inf Sci Syst 2014;2(1):3
Caban JJ, Gotz D. Visual analytics in healthcare - opportunities and research chal-lenges. J Am Med Inform Assoc 2015; 22(2):260‑2
Cortada J, Gordon D, Lenihan B. The value of analytics in healthcare: from insights to out-comes. IBM Global Business Services 2012:1‑15
Keim D, Andrienko G, Fekete J-D, Görg C, Kohlhammer J, Melançon G. Visual analytics: definition, process, and challenges. In: Kerren A, Stasko JT, Fekete J-D, North C (Eds). In-formation visualization: human-centered is-sues and perspectives. Berlin, Heidelberg: Springer; 2008:154‑75
Dell EMC, International Corporation Data. The digital universe: driving data growth in healthcare. EMC Project 2014:1‑16
Simpao AF, Ahumada LM, Gálvez JA, Rehman MA. A review of analytics and clinical infor-matics in health care. J Med Syst 2014;38(4):45
Monteith S, Glenn T, Geddes J, Bauer M. Big data are coming to psychiatry: a general in-troduction. Int J Bipolar Disord 2015;3(1):21
Gray JE, O'Reilly RL. Clinically significant differences among Canadian mental health acts. Can J Psychiatry 2001;46(4):315‑21
Glancy GD, Chaimowitz GA. The clinical use of risk assessment. Can J Psychiatry 2005;50(1):12‑7
Criminal Code of Canada. s. 672.54
Kumar S, Simpson AIF. Application of risk assessment for violence methods to general adult psychiatry: a selective literature review. Aust N Z J Psychiatry 2005;39(5): 328-35
Chaimowitz GA, Mamak M (Eds). Companion guide to the Aggressive Incidents Scale and the Hamilton Anatomy of Risk Management. 2nd Ed. Hamilton Ontario, Canada: St. Jo-seph's Healthcare Hamilton
Quinsey VL, Harris GT, Rice ME, Cormier CA (Eds). Violent offenders: appraising and man-aging risk. 2nd Ed. Washington DC: American Psychological Association; 2005
Douglas KS, Hart SD, Webster CD, Belfrage H, Guy LS, Wilson CM. Historical-Clinical-Risk Management-20, version 3 (HCR-20 V3): devel-opment and overview. Int J Forensic Ment Health 2014;13(2): 93‑108
Monahan J, Steadman HJ, Appelbaum PS, Grisso T, Mulvey EP, Roth LH, et al. The classification of violence risk. Behav Sci Law 2006;24(6):721‑30
Mamak M, Chaimowitz GA, Lau J, Moulden HM. Assessing the reliability of the Aggres-sive Incidents Scale. Paper presented at the Annual Conference of the International Acad-emy of Forensic Mental Health Services in 2012; Miami Florida, USA.
Cook AN, Moulden HM, Mamak M, Lalani S, Messina K, Chaimowitz G. Validating the Ham-ilton Anatomy of Risk Management–Forensic Version and the Aggressive Incidents Scale. Assessment 2016 in press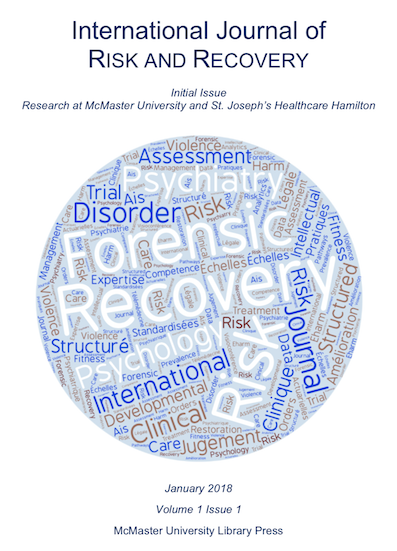 How to Cite
Mullally, K., Mamak, M., & Chaimowitz, G. A. (2018). The next generation of risk assessment and management: Introducing the eHARM. International Journal of Risk and Recovery, 1(1), 21–26. https://doi.org/10.15173/ijrr.v1i1.3365
License
Copyright Notice
Authors who publish with this journal agree to the following terms:
Authors retain copyright of their work and grant the International Journal of Risk and Recovery the right of first publication with the work simultaneously licensed under a Creative Commons Attribution License. This allows others to share the work with an acknowledgement of the work's authorship and initial publication in this journal.
Authors are able to enter into separate, additional contractual arrangements for the non-exclusive distribution of the journal's published version of the work (e.g., post it to an institutional repository or publish it in a book) with an acknowledgement of its initial publication in this journal.
Authors are permitted and encouraged to post their work online (e.g., in institutional repositories or on their websites) before and during the submission process as it can lead to productive exchanges, as well as earlier and greater citation of published work. (See The Effect of Open Access.)