Kratom-induced Psychosis
Case report and literature investigation
Keywords:
Psychosis, Schizophrenia, Kratom, Mitragyna speciasa, drug-induced, legal highs
Abstract
Substance Use Disorder is a major concern for public health. Legal substances are often misused to get "high". Beside the risk of developing subsequent mental health and physical conditions, one of major risk is related to behavioural changes leading to criminal behaviour. There is need for regulation on some of these substances to ensure public as well as individual safety. This article is a case report describing Mitragyna speciosa (Kratom) induced psychosis in a patient suffering from Schizophrenia. We hope this article can bring attention to regulating bodies about the risks associated with readily available "legal" drugs like Kratom. 
References
Hillebrand J, Olszewski D, Sedefov R. Legal highs on the Internet. Subst Use Misuse 2010;45(3):330‑40
Williams RJ, Nowatzki N. Validity of adoles-cent self-report of substance use. Subst Use Misuse 2005;40(3):299‑311
Mooney L. Drugs of abuse: what you & clini-cians need to know. 2015. (accessed 09 Sep-tember 2019)
Kikura-Hanajiri R, Kawamura M, Maruyama T, Kitajima M, Takayama H, Goda Y. Simul-taneous analysis of mitragynine, 7-hydroxymitragynine, and other alkaloids in the psychotropic plant "kratom" (Mitragyna speci-osa) by LC-ESI-MS. Forensic Toxicol 2009;27(2):67‑74
Hassan Z, Muzaimi M, Navaratnam V, Yusoff NHM, Suhaimi FW, Vadivelu R, et al. From Kratom to mitragynine and its deriva-tives: physiological and behavioural effects related to use, abuse, and addiction. Neuro-sci Biobehav Rev 2013;37(2):138‑51
Kratom Legend. Kratom Strains & Their In-side Nature. (accessed 09 September 2019)
Kratom.com. Kratom Strains and localities. (accessed 09 September 2019)
Tavakoli HR, Buchholz AC, Kabir IK, Deb A, Gayk JN. Kratom: a new product in an ex-panding substance abuse market. Fed Pract 2016;33(11):32‑6
Winstock A, Wilkins C. « Legal highs » the challenge of new psychoactive substances. Ser Legis Reform Drug Policies 2011. (accessed 09 September 2019)
Neerman MF, Frost RE, Deking J. A drug fatality involving kratom. J Forensic Sci 2013;58:S278‑9
Boyer EW, Babu KM, Adkins JE, McCurdy CR, Halpern JH. Self-treatment of opioid withdrawal using kratom (Mitragynia speciosa korth). Addict Abingdon Engl 2008;103(6):1048‑50
Nelsen JL, Lapoint J, Hodgman MJ, Aldous KM. Seizure and coma following kratom (Mi-tragynina speciosa Korth) exposure. J Med Toxicol 2010;6(4):424‑6
Vijeepallam K, Pandy V, Kunasegaran T, Murugan DD, Naidu M. Mitragyna speciosa leaf extract exhibits antipsychotic-like effect with the potential to alleviate positive and negative symptoms of psychosis in mice. Front Pharmacol 2016. (accessed 09 Sep-tember 2019)
Anwar M, Law R, Schier J. Notes from the field: Kratom (Mitragyna speciosa) exposures reported to poison centers — United States, 2010–2015. MMWR Morb Mortal Wkly Rep 2016;65(29):748‑9
Kittirattanapaiboon P, Suttajit S, Junsiri-mongkol B, Likhitsathian S, Srisurapanont M. Suicide risk among Thai illicit drug users with and without mental/alcohol use disorders. Neuropsychiatr Dis Treat. 2014;453
Suwanlert S. A study of kratom eaters in Thailand. Bull Narc 1975;27(3):21‑7
Chang-Chien GC, Odonkor CA, Amorapanth P. Is Kratom the new « legal high » on the block?: the case of an emerging opioid recep-tor agonist with substance abuse potential. Pain Physician 2017;20(1):E195‑8
Burillo-Putze G, López Briz E, Climent Díaz B, Munné Mas P, Nogue Xarau S, Pinillos MA, et al. [Emergent drugs (III): hallucinogen-ic plants and mushrooms]. An Sist Sanit Navar 2013;36(3):505‑18
Junsirimongkol B. Kratom abuse in Southern Thailand. 2008. (accessed 09 September 2019)
Shreeram SS, McDonald T, Dennison S. Psychosis after ultrarapid opiate detoxifica-tion. Am J Psychiatry 2001;158(6):970‑970
Singh D, Müller CP, Vicknasingam BK. Krat-om (Mitragyna speciosa) dependence, with-drawal symptoms and craving in regular us-ers. Drug Alcohol Depend 2014;139:132‑7
European Monitoring Center for Drug and Drug Addictions. Kratom (Mitragyna speci-osa) drug profile. (accessed 09 September 2019)
Swogger MT, Hart E, Erowid F, Erowid E, Trabold N, Yee K, et al. Experiences of krat-om users: a qualitative analysis. J Psychoac-tive Drugs 2015;47(5):360‑7
Davies S, Wood DM, Smith G, Button J, Ramsey J, Archer R, et al. Purchasing « le-gal highs » on the Internet--is there con-sistency in what you get? QJM 2010;103(7):489‑93
Babu KM, McCurdy CR, Boyer EW. Opioid receptors and legal highs: Salvia divinorum and Kratom. Clin Toxicol Phila Pa 2008;46(2):146‑52
U.S. Drug Enforcement Administration, Office of Diversion Control. KRATOM (Mitragyna speciosa korth). 2013. (accessed 09 Sep-tember 2019)
Forrester MB. Kratom exposures reported to Texas poison centers. J Addict Dis 2013;32(4):396‑400
Schmidt MM, Sharma A, Schifano F, Fein-mann C. "Legal highs" on the net—evaluation of UK-based websites, products and product information. Forensic Sci Int 2011;206(1‑3):92‑7
Sheleg SV, Collins GB. A Coincidence of Addiction to "Kratom" and severe primary hy-pothyroidism. J Addict Med 2011;5(4):300‑1
McWhirter L, Morris S. A case report of inpa-tient detoxification after kratom (Mitragyna speciosa) dependence. Eur Addict Res 2010;16(4):229‑31
Prozialeck WC, Jivan JK, Andurkar SV. Pharmacology of kratom: an emerging botan-ical agent with stimulant, analgesic and opi-oid-like effects. J Am Osteopath Assoc 2012;112(12):792‑9
Trakulsrichai S, Tongpo A, Sriapha C, Wongvisawakorn S, Rittilert P, Kaojarern S, et al. Kratom abuse in Ramathibodi poison center, Thailand: a five-year experience. J Psychoactive Drugs 2013;45(5):404‑8
Voelker R. Kratom products seized. JAMA 2016;316(11):1142
Yusoff NHM, Suhaimi FW, Vadivelu RK, Hassan Z, Rümler A, Rotter A, et al. Abuse potential and adverse cognitive effects of mi-tragynine (kratom): Mitragynine addiction. Addict Biol 2016;21(1):98‑110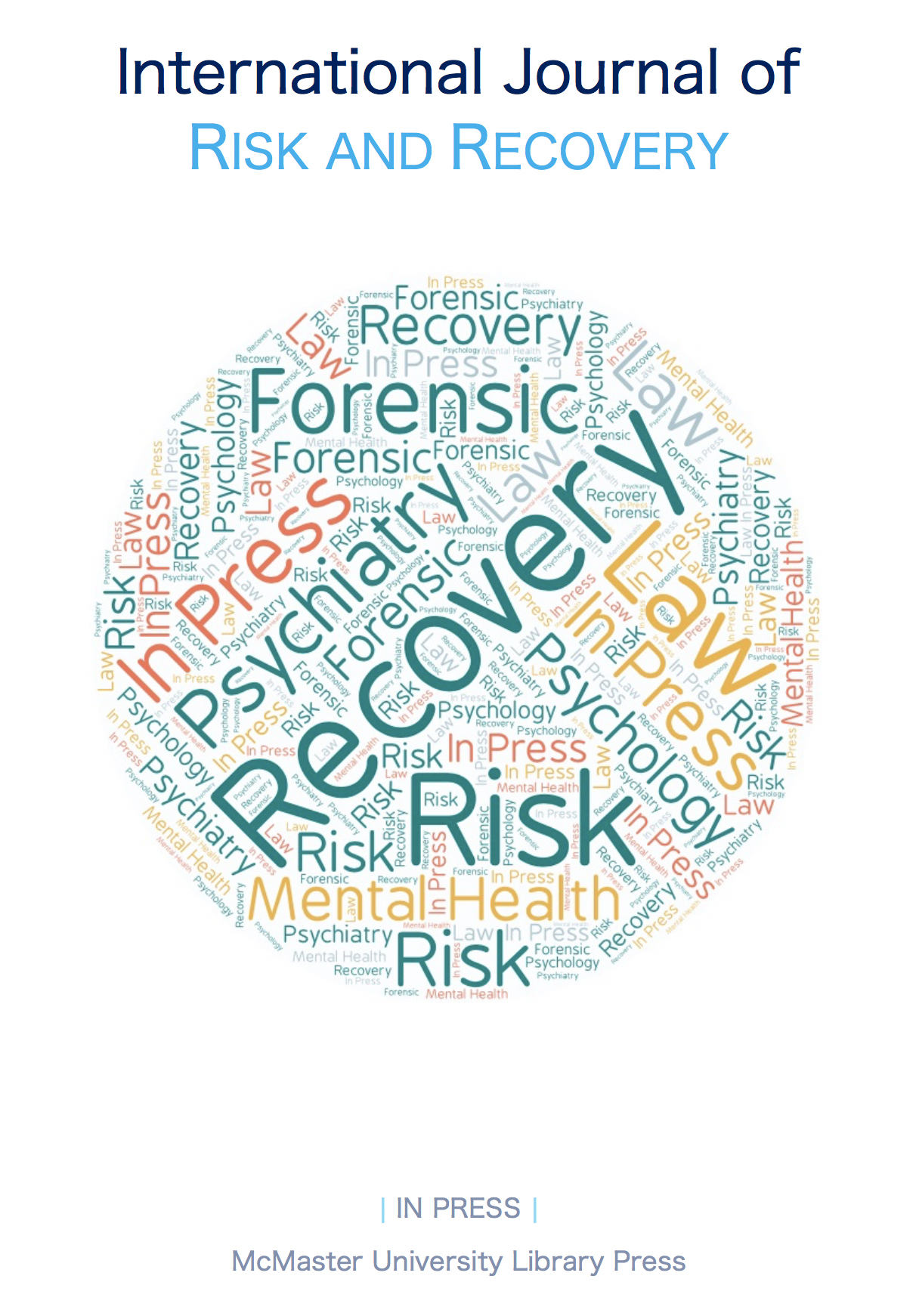 Downloads
How to Cite
Prat, S. S., Rizvi, S. A., & Chaimowitz, G. A. (2019). Kratom-induced Psychosis: Case report and literature investigation. International Journal of Risk and Recovery. https://doi.org/10.15173/ijrr.v3i2.4134
License
Authors who publish with this journal agree to the following terms:
Authors retain copyright and grant the journal right of first publication with the work simultaneously licensed under a Creative Commons Attribution License that allows others to share the work with an acknowledgement of the work's authorship and initial publication in this journal.
Authors are able to enter into separate, additional contractual arrangements for the non-exclusive distribution of the journal's published version of the work (e.g., post it to an institutional repository or publish it in a book), with an acknowledgement of its initial publication in this journal.
Authors are permitted and encouraged to post their work online (e.g., in institutional repositories or on their website) prior to and during the submission process, as it can lead to productive exchanges, as well as earlier and greater citation of published work (See The Effect of Open Access).