Balancing risk and recovery
Gary A Chaimowitz

McMaster University, Department of Psychiatry and Behavioural Neurosciences & St. Joseph's Healthcare Hamilton, Forensic Psychiatry Program
Abstract
This Editorial introduces the first issue of the International Journal of Risk and Recovery. The fine balance of risk and recovery in Forensic Psychiatry and more generaly in Mental Health is discussed. It is written by Gary Chaimowitz, Professor in the Department of Psychiatry and Behavioural Neurosciences, Head of Forensic Psychiatry Program at St. Joseph's Healthcare Hamilton in Canada, and Editor in Chief of the journal.
References
1. Simpson A, Penney S. The recovery paradigm in forensic mental health services. Crim Behav Ment Health 2011;21(5):299-306

2. Glancy G, Chaimowitz G. The clinical use of risk assessment. Can J Psychiatry 2005;50(1):12-17

3. Grimshaw J, Eccles M, Lavis J, Hill S, Squires J. Knowledge translation of research findings. Implement Sci 2012;7(1):50

4. Aga N, Vander Laenen F, Vandevelde S, Vermeersch E, Vanderplasschen W. Recovery of offenders formerly labeled as not criminally responsible: uncovering the ambiguity from first-person narratives. Int J Offender Ther Comp Criminol 2017 in press

5. Livingston J. What does success look like in the forensic mental health system? Perspectives of service users and service providers. Int J Offender Ther Comp Criminol 2016 in press

6. Shepherd A, Doyle M, Sanders C, Shaw J. Personal recovery within forensic settings – Systematic review and meta-synthesis of qualitative methods studies. Crim Behav Ment Health 2016;26(1):59-75

7. Barnao M, Ward T, Robertson P. The Good Lives Model: a new paradigm for forensic mental health. Psychiatr Psychol Law 2016;23(2):288-301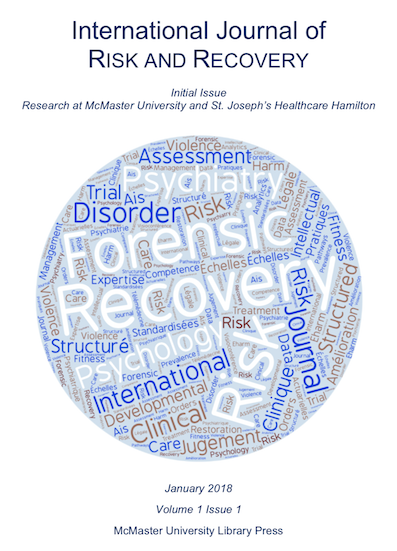 Authors who publish with this journal agree to the following terms:
Authors retain copyright and grant the journal right of first publication with the work simultaneously licensed under a Creative Commons Attribution License that allows others to share the work with an acknowledgement of the work's authorship and initial publication in this journal.
Authors are able to enter into separate, additional contractual arrangements for the non-exclusive distribution of the journal's published version of the work (e.g., post it to an institutional repository or publish it in a book), with an acknowledgement of its initial publication in this journal.
Authors are permitted and encouraged to post their work online (e.g., in institutional repositories or on their website) prior to and during the submission process, as it can lead to productive exchanges, as well as earlier and greater citation of published work (See The Effect of Open Access).