Autism, Equity, and How the Journal Came to Be
DOI:
https://doi.org/10.15173/cjae.v1i1.4986
Abstract
Over the past year a pandemic has swept across the world and, unsurprisingly, revealed gross inequalities across all aspects of life. We saw this in the constant pandemic media coverage that overlooked the experiences of the disability community and, more specifically, the autism community, at least at first. Furthermore, let us not forget in the early days of the pandemic that in countries such as Italy, people without disabilities were prioritized for life-saving machines (Andrews et al., 2020; Lund & Ayers, 2020), contributing to a culture of fear for the one in five Canadians with a disability (Morris et al., 2018) about what would happen to them here. As COVID-19 reached Canadian shores we saw this pattern of inequity quickly replicated within our society. For instance, Canadians with developmental disabilities, such as autism, living in residential settings did not receive the same level of support as those living in different kinds of residences such as retirement residences (Abel & Lai, 2020). Likewise, the initial claims that only people with 'preexisting conditions' were at risk implied that those at risk were somehow less valuable to society. Nothing has highlighted the very real problem and extent of ableism within Canadian society as a whole more than these injustices arising from the COVID-19 pandemic, and this is what planted the seed for the Canadian Journal of Autism Equity (CJAE). 
References
Abel, C., & Lai, J. (2020, October 02). Disabled Canadians ignored in policies on COVID-19. Policy Options. https://policyoptions.irpp.org/magazines/october-2020/disabled-canadians-ignored-in-policies-oncovid-19/
Andrews, E. E., Ayers, K. B., Brown, K. S., Dunn, D. S., & Pilarski, C. R. (2020). No body is expendable: Medical rationing and disability justice during the COVID-19 pandemic. American Psychologist, 1–12. https://doi.org/10.1037/amp0000709
Deal, M. (2003). Disabled people's attitudes toward other impairment groups: A hierarchy of impairments. Disability & Society, 18(7), 897–910. https://doi.org/10.1080/0968759032000127317
Hayward, K. A. (2005). A hierarchy of disability: Attitudes of people with disabilities toward one another [Ph.D, University of California]. Retrieved From ProQuest Dissertations and Theses (prod.academic_MSTAR_305002638)
Lund, E. M., & Ayers, K. B. (2020). Raising awareness of disabled lives and health care rationing during the COVID-19 pandemic. Psychological Trauma: Theory, Research, Practice, and Policy, 12(S1), S210–S211. https://doi.org/10.1037/tra0000673
Morris, S. P., Fawcett, G., Brisebois, L., Hughes, J., & Statistics Canada. (2018). A demographic, employment and income profile of Canadians with disabilities aged 15 years and over, 2017. http://epe.lac-bac.gc.ca/100/201/301/weekly_acquisitions_list-ef/2018/18-48/publications.gc.ca/collections/collection_2018/statcan/89-654-x/89-654-x2018002-eng.pdf
Schmitz, P. (2015, September 3). Applying An Equity Mirror to Collective Impact. FSG. https://www.fsg.org/blog/applying-equity-mirror-collective-impact
Wilton, R. (2000). GROUNDING HIERARCHIES OF ACCEPTANCE: THE SOCIAL CONSTRUCTION OF DISABILITY IN NIMBY CONFLICTS. Urban Geography, 21(7), 586–608. https://doi.org/10.2747/0272-3638.21.7.586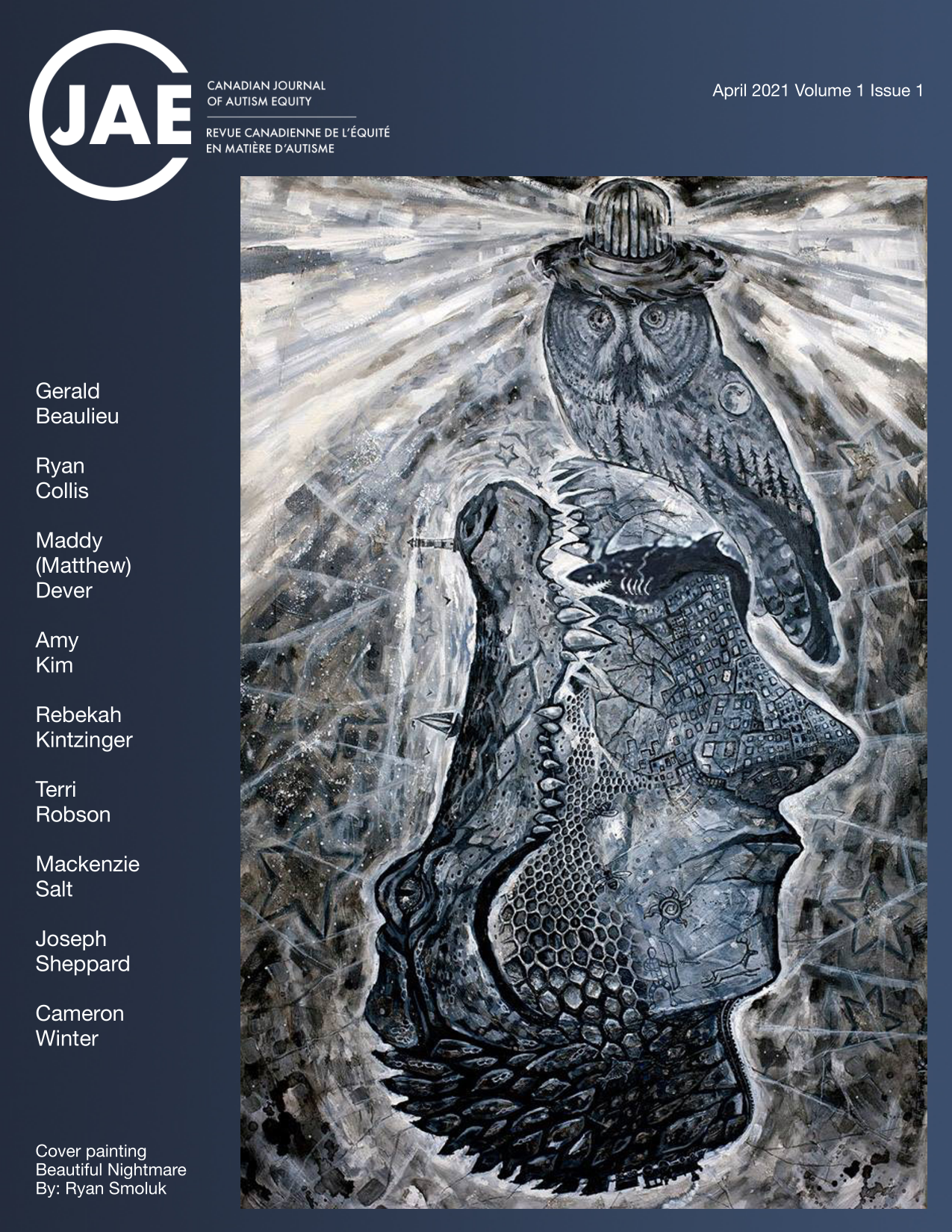 Downloads
How to Cite
Krasnodembski, M., Côté, S., & Lai, J. (2021). Autism, Equity, and How the Journal Came to Be. Canadian Journal of Autism Equity, 1(1), 9–11. https://doi.org/10.15173/cjae.v1i1.4986
License
Copyright (c) 2021 Megan Krasnodembski, Stephanie Côté, Jonathan Lai
This work is licensed under a Creative Commons Attribution-NonCommercial-ShareAlike 4.0 International License.
Authors retain copyright and grant the journal the right of first publication with the work simultaneously licensed under a Creative Commons Attribution License that allows others to share the work with an acknowledgement of the work's authorship and initial publication in this journal.
Authors are able to enter into separate, additional contractual arrangements for the non-exclusive distribution of the journal's published version of the work (e.g., post it to an institutional repository or publish it in a book), with an acknowledgement of its initial publication in this journal.
CJAE accepts articles that have not been published in any other journals/proceedings, unless copyright permission is assured, and have not been submitted for consideration to any other journals/proceedings at the time of submitting to the Canadian Journal of Autism Equity for consideration. While a paper is under consideration by CJAE, you agree not to submit the work to other journals/proceedings until review by CJAE is completed and a decision has been rendered.