The Past, Present and Future of Early Childhood Inclusion in Canada
DOI:
https://doi.org/10.15173/cjae.v3i1.5028
Keywords:
autism, inclusion, early childhood education
Abstract
This article examines the roots of inclusion in Canada's educational and early childhood settings as a colonized nation. It discusses how to address the damage done to create inclusive environments where every child is empowered. While we have moved away from exclusion and segregation, inclusion policies are still resisted by parents, educators, and policymakers due to a turbulent past and the lack of coherent programming and funding (Halfton & Friendly, 2015). The author examines the dichotomy of care and education in relation to inclusion, criticizes using children as objects of scientific inquiry, and maintains the importance of upholding a capable image of the child. Modern-day inclusion policies may harm autistic children instead of helping, as they may not truly be in the best interest of children with disabilities.
References
British Columbia Ministry of Education. (2019). British Columbia Early learning framework. https://www2.gov.bc.ca/gov/content/education-training/early-learning/teach/early-learning-framework
Brotherson, M. J., Sheriff, G., Milburn, P., & Schertz, M. (2001). Elementary school principals and their needs and issues for inclusive early childhood programs. Topics in Early Childhood Special Education, 21(1), 31-45. https://journals.sagepub.com/doi/10.1177/027112140102100103
Bunch, G. (1994). Canadian perspectives on inclusive education from there to here: The passage to inclusive education. Exceptionality Education Canada, 4(3), 19-35. https://inclusion.com/site/wp-content/uploads/2018/10/1994-Canadian-Perspectives-on-Inclusive-Education-From-There-to-Here_The-Passage-to-Inclusive-Education.pdf
Britten, L., & Wilson, J. (2022, November 25). Families express relief as B.C. retracts plan to scrap individualized funding for children with autism. CBC News. https://www.cbc.ca/news/canada/british-columbia/bc-autism-funding-1.6665216
Flanagan, K., & Beach, J. (2010). Examining the human resource implications of emerging issues in early childhood education and care (ECEC)/communications strategy development: Inclusion. http://ccsc-cssge.ca/sites/default/files/uploads/Projects-Pubs-Docs/EN%20Pub%20Chart/Emerging%20Issues%20-%20Inclusion.pdf
Halfon, S., & Friendly, M. (2013). Inclusion of Young Children with Disabilities in Regulated Child Care in Canada: A Snapshot: Research, Policy and Practice. Toronto, ON: Childcare Resource and Research Unit. https://childcarecanada.org/sites/default/files/Occasional%20paper%2027%20FINAL.pdf
Ministry of Child and Family Development. (2022). Family connections hubs. Province of British Columbia. Retrieved from https://www2.gov.bc.ca/gov/content/health/managing-your-health/child-behaviour-development/support-needs/family-connections-centres?keyword=family&keyword=hubs
Nutbrown, C. (2018). Inclusion and Diversity in Early Childhood Education and Care. In Early childhood educational research: International perspectives. SAGE Publications, Ltd. https://doi.org/10.4135/9781526451811
Ofner, M, Coles, A., Decou, M.L., Do, M. T., Bienek, A. Snider, J. & Ugnat, A.M. (2018). Autism spectrum disorder among children and youth in Canada 2018: A report of the National Autism Spectrum Disorder Surveillance System. Ottawa, ON: Public Health Agency of Canada. https://www.canada.ca/en/public-health/services/publications/diseases-conditions/autism-spectrum-disorder-children-youth-canada-2018.html
Sandoval-Norton, A. H., & Shkedy, G. (2019). How much compliance is too much compliance: Is long-term ABA therapy abuse? Cogent Psychology, 6(1), 1-8. https://www.tandfonline.com/doi/full/10.1080/23311908.2019.1641258
Sorin, R. (2005). Changing images of childhood - Reconceptualising early childhood practice. International Journal of Transitions in Childhood, 1, 12-21.
Towle, H. (2015). Disability and inclusion in Canadian education: Policy, procedure, and practice. Canadian Centre for Policy Alternatives. https://www.policyalternatives.ca/sites/default/files/uploads/publications/National%20Office/2015/07/Disability_and_Inclusion_in_Education.pdf
Uditsky, B. (2018, March 19). The Inclusion Lottery: A game of chance with a child's education – inclusive education. Inclusive Education Canada. Retrieved November 12, 2021, from https://inclusiveeducation.ca/2018/03/19/the-inclusion-lottery-a-game-of-chance-with-a-childs-education/
Varga, D. (2011). Look–normal: The colonized child of developmental science. History of Psychology, 14(2), 137. https://psycnet.apa.org/doi/10.1037/a0021775
Weisgarber, M. (2021, November 2). Growing concerns over new 'hub' service model for B.C. children with support needs, disabilities. CTV News. https://bc.ctvnews.ca/growing-concerns-over-new-hub-service-model-for-b-c-children-with-support-needs-disabilities-1.5649873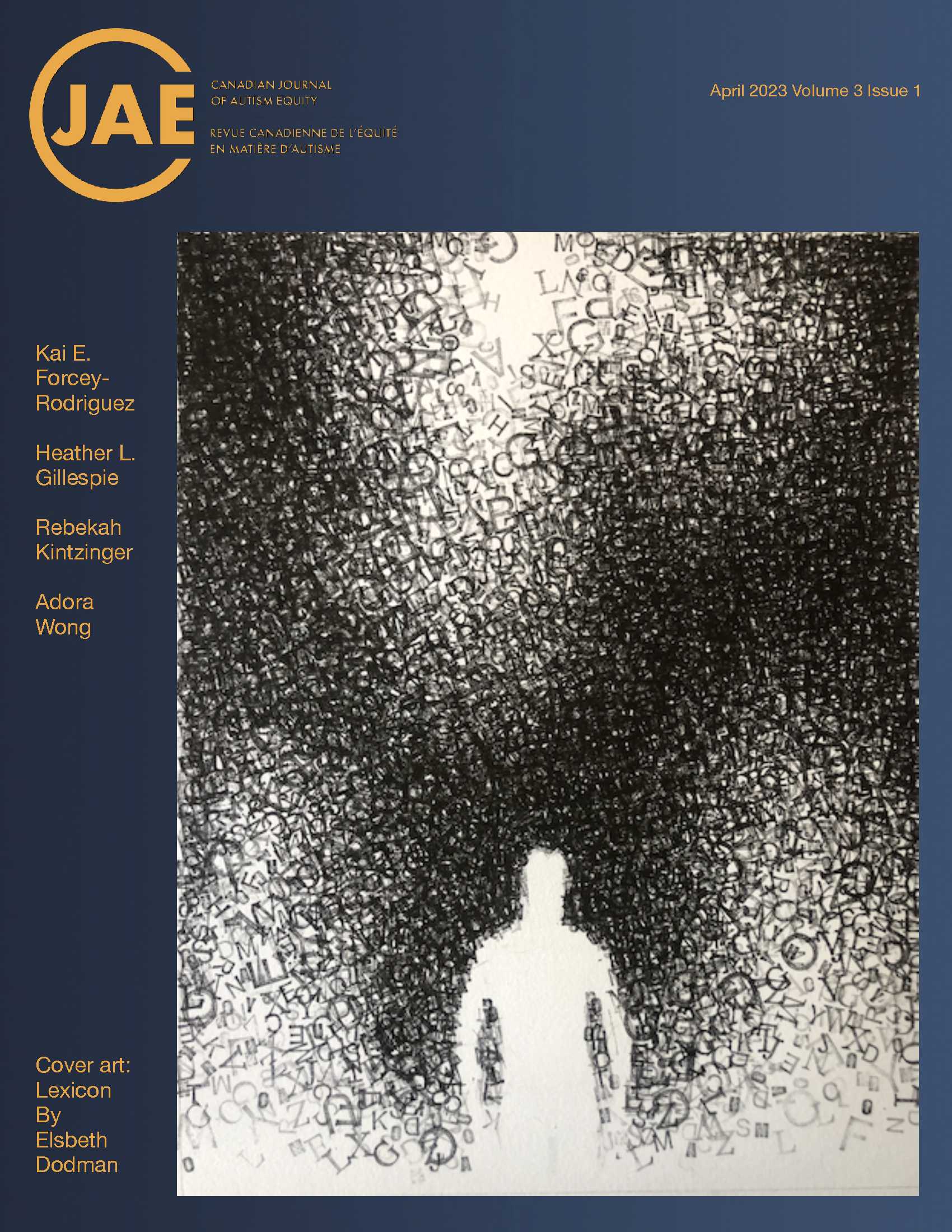 Downloads
How to Cite
Wong, A. (2023). The Past, Present and Future of Early Childhood Inclusion in Canada. Canadian Journal of Autism Equity, 3(1), 52–59. https://doi.org/10.15173/cjae.v3i1.5028
License
Copyright (c) 2023 Adora Wong
This work is licensed under a Creative Commons Attribution-NonCommercial-ShareAlike 4.0 International License.
Authors retain copyright and grant the journal the right of first publication with the work simultaneously licensed under a Creative Commons Attribution License that allows others to share the work with an acknowledgement of the work's authorship and initial publication in this journal.
Authors are able to enter into separate, additional contractual arrangements for the non-exclusive distribution of the journal's published version of the work (e.g., post it to an institutional repository or publish it in a book), with an acknowledgement of its initial publication in this journal.
CJAE accepts articles that have not been published in any other journals/proceedings, unless copyright permission is assured, and have not been submitted for consideration to any other journals/proceedings at the time of submitting to the Canadian Journal of Autism Equity for consideration. While a paper is under consideration by CJAE, you agree not to submit the work to other journals/proceedings until review by CJAE is completed and a decision has been rendered.