Asking and Answering Questions: Partners, Peer Learning, and Participation
DOI:
https://doi.org/10.15173/ijsap.v1i1.3072
Keywords:
peer learning, feedback, asking questions, active learning, science
Abstract
Science is about asking questions but not all science courses provide students with opportunities to practice this essential skill. We give students ownership of the processes of asking and answering questions to help them take greater responsibility for their own learning and to better understand the process of science with its inherent uncertainty. Peer learning activities throughout the course embed multidirectional feedback within and between students and instructors. Students are our partners in the design and evaluation of exam questions and we learn from them as they rise to the challenge of identifying important information and applying it. The lab program is supported by peer assisted learning in which peer mentors partner with instructors to generate activities addressing the use of evidence and experimental design. While not all students engage as partners, those who do value these experiences and demonstrate they can use scientific content creatively and critically.
Downloads
Download data is not yet available.
References
Boud, D., & Molloy, E. (2013). Rethinking models of feedback for learning: The challenge of design. Assessment & Evaluation in Higher Education, 38(6), 698-712.

Bovill, C., Cook-Sather, A., Felten, P., Millard, L., & Moore-Cherry, N. (2016). Addressing potential challenges in co-creating learning and teaching: Overcoming resistance, navigating institutional norms and ensuring inclusivity in student–staff partnerships. Higher Education, 71(2), 195-208.

Crouch, C.H., & Mazur, E. (2001). Peer instruction: Ten years of experience and results. American Journal of Physics, 69, 970-977.

Deeley, S. J., & Bovill, C. (2015). Staff student partnership in assessment: Enhancing assessment literacy through democratic practices. Assessment & Evaluation in Higher Education, 42, 1-15.

Denny, P., Luxton-Reilly, A., & Hamer. (2008). The PeerWise system of student contributed assessment questions. Proceedings of the Tenth Conference on Australian Computing Education, Volume 78, 69-74.

Healey, M., Flint, A., & Harrington, K. (2014). Engagement through partnership: Students as partners in learning and teaching in higher education. York: Higher Education Academy. Retrieved from https://www.heacademy.ac.uk/engagement-through-partnership-students-partners-learning-and-teaching-higher-education

Healy, F.G., & Livingstone, K.D. (2010). Using student-generated UV-induced Escherichia coli mutants in a directed inquiry undergraduate genetics laboratory. Genetics, 186(1), 33-39.

Hodson, D. (1999). Going beyond cultural pluralism: Science education for sociopolitical action. Science Education, 83(6), 775-796.

Keenan, C. (2014). Mapping student-led peer learning in the UK. The Higher Education Academy. Retrieved from: https://www.heacademy.ac.uk/resource/mapping-student-led-peer-learning-uk

Matthews, K. (2016). Students as partners as the future of student engagement. Student Engagement in Higher Education Journal, 1(1). Retrieved from https://journals.gre.ac.uk/index.php/raise/article/view/380/338

Nicol, D. J., & Macfarlane‐Dick, D. (2006). Formative assessment and self‐regulated learning: A model and seven principles of good feedback practice. Studies in Higher Education, 31(2), 199-218.

Smith, M. K., Wood, W. B., Adams, W. K., Wieman, C., Knight, J. K., Guild, N., & Su, T. T. (2009). Why peer discussion improves student performance on in-class concept questions. Science, 323(5910), 122-124.

Topping, K. J. (1996). The effectiveness of peer tutoring in further and higher education: A typology and review of the literature. Higher Education, 32(3), 321-345.

Zimmerman, B. J. (2013). From Cognitive modeling to self-regulation: A social cognitive career path. Educational Psychologist, 48(3), 135-147.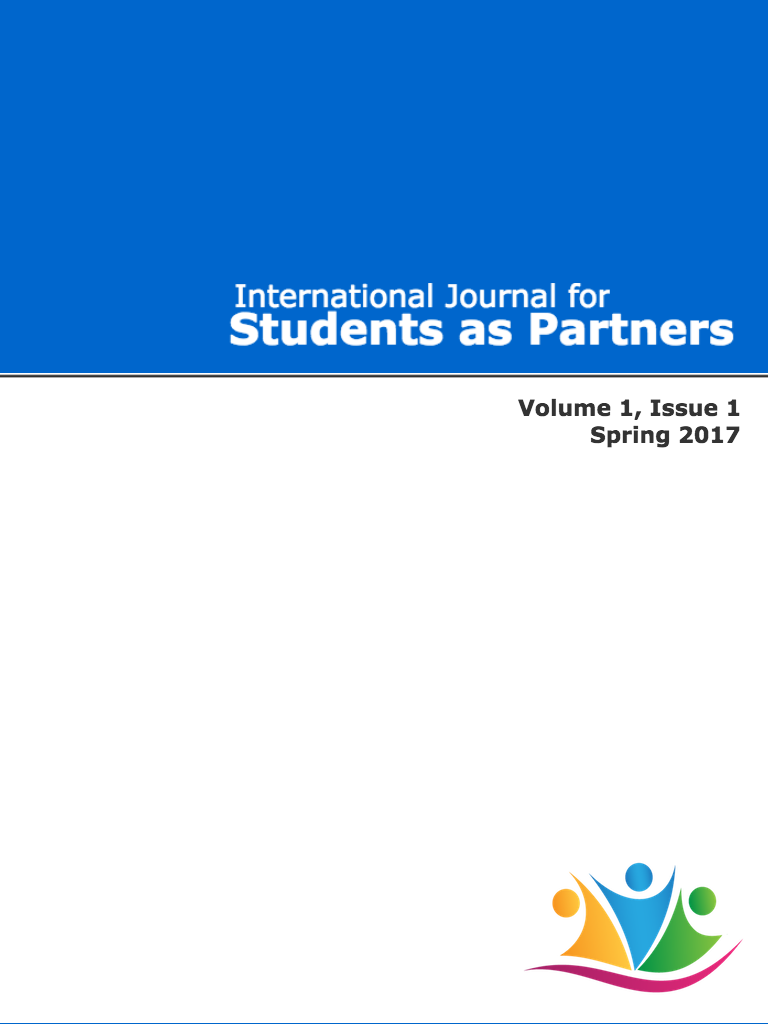 Downloads
How to Cite
Rivers, J., Smith, A. B., Higgins, D., Mills, R., Maier, A. G., & Howitt, S. M. (2017). Asking and Answering Questions: Partners, Peer Learning, and Participation. International Journal for Students As Partners, 1(1). https://doi.org/10.15173/ijsap.v1i1.3072
License
Authors retain copyright and grant the journal right of first publication with the work simultaneously licensed under a Creative Commons Attribution License that allows others to share the work with an acknowledgement of the work's authorship and initial publication in this journal.

Authors are able to enter into separate, additional contractual arrangements for the non-exclusive distribution of the journal's published version of the work (e.g., post it to an institutional repository or publish it in a book), with an acknowledgement of its initial publication in this journal.

Authors are permitted to post their work online (e.g., in institutional repositories or on their website) prior to and during the submission process - this applies to the submitted, accepted, and published versions of the manuscript. This can lead to productive exchanges, as well as earlier and greater citation of published work (see The Effect of Open Access).