Reflections on an International "Change Institute" for Students as Partners: A Student Perspective
Anita Acai

Paul R. MacPherson Institute for Leadership, Innovation & Excellence in Teaching Department of Psychology, Neuroscience & Behaviour Office of Education Science, Department of Surgery McMaster University

http://orcid.org/0000-0002-9901-2946

Sabrina Kirby

Paul R. MacPherson Institute for Leadership, Innovation & Excellence in Teaching McMaster University Faculty of Information University of Toronto

Rafaella Shammas

Paul R. MacPherson Institute for Leadership, Innovation & Excellence in Teaching Department of Biochemistry and Biomedical Sciences McMaster University
Keywords:
students as partners, student perspective, reflection
Downloads
Download data is not yet available.
References
Cockroft, R., Drouillard, T., Faubert, J., Gabay, D., Knorr, K., Liu, A., & Van Gastel, G. (2016). Student Partners Program guidebook. Hamilton, ON: McMaster Institute for Innovation and Excellence in Teaching and Learning. Retrieved from https://mi.mcmaster.ca/site/wp-content/uploads/2016/11/SPP_FinalUpdated2016.pdf

Healey, M., Flint, A., & Harrington, K. (2014). Engagement through partnership: Students as partners in learning and teaching in higher education. Heslington, UK: The Higher Education Academy. Retrieved from https://www.heacademy.ac.uk/sites/default/files/resources/engagement_through_partnership.pdf

Higher Education Academy. (2015). Framework for student engagement through partnership. York, UK: Higher Education Academy. Retrieved from https://www.heacademy.ac.uk/sites/default/files/downloads/student-enagagement-through-partnership-new.pdf

Kotzé, T. G., & du Plessis, P. J. (2003). Students as "co-producers" of education: A proposed model of student socialisation and participation at tertiary institutions. Quality Assurance in Education, 11(4), 186-201. doi:10.1108/09684880310501377

MacPherson Institute. (2016). International Summer Institute on Students as Partners. Retrieved from https://macblog.mcmaster.ca/summer-institute/

Parkman, A. (2016). The imposter phenomenon in higher education: Incidence and impact. Journal of Higher Education Theory and Practice, 16(1), 51-60.

Werder, C., Thibou, S., & Kaufer, B. (2012). Students as co-inquirers: A requisite threshold concept in educational development? The Journal of Faculty Development, 26(3), 34–38.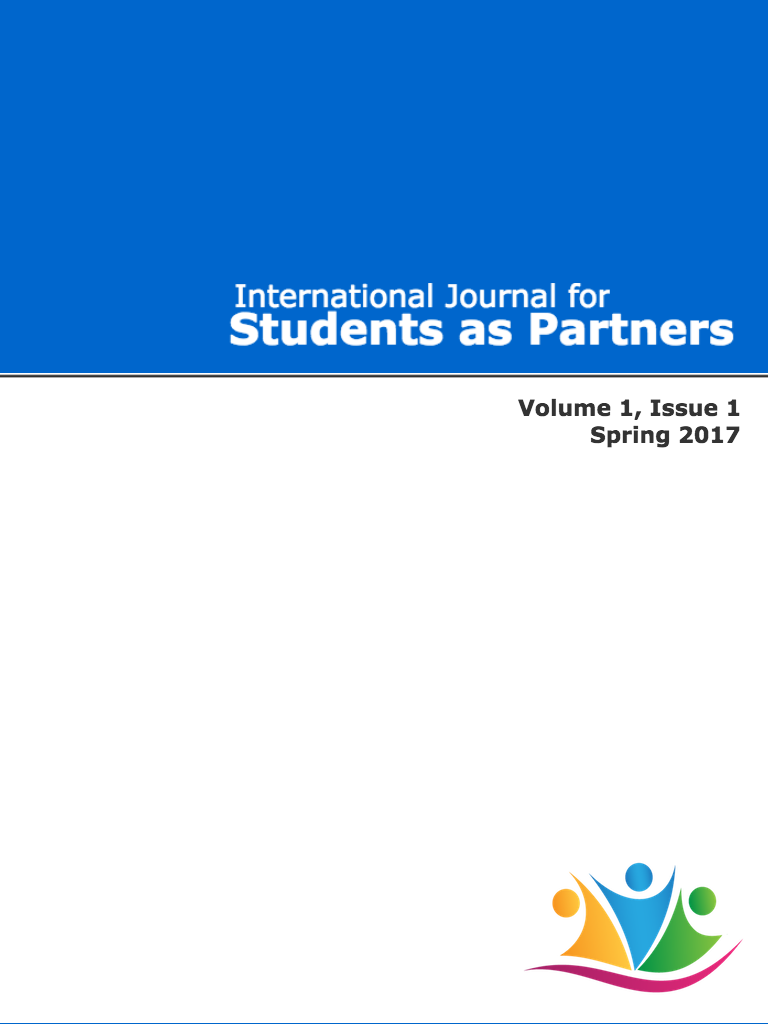 How to Cite
Acai, A., Kirby, S., & Shammas, R. (2017). Reflections on an International "Change Institute" for Students as Partners: A Student Perspective. International Journal for Students As Partners, 1(1). https://doi.org/10.15173/ijsap.v1i1.3084
Section
Reflective Essays
 Creative Commons Attribution License 
that allows others to share the work with an acknowledgement of the work's authorship and initial publication in this journal.
Authors are able to enter into separate, additional contractual arrangements for the non-exclusive distribution of the journal's published version of the work (e.g., post it to an institutional repository or publish it in a book), with an acknowledgement of its initial publication in this journal.
Authors are permitted to post their work online (e.g., in institutional repositories or on their website) prior to and during the submission process, as it can lead to productive exchanges, as well as earlier and greater citation of published work (See 
The Effect of Open Access
).